Choosing the correct build is really important in the game. This article will show you the best wild rift Volibear build. Which items & runes are the best for Volibear. Check out.
Volibear is a new Fighter champion that just make his appearance in Wild Rift. He can play in Solo Lane or Jungler in the game. He has good damage output with a high ability to survive with defensive and movement. Lack of crowd control ability and easy to play.
Volibear Build Wild Rift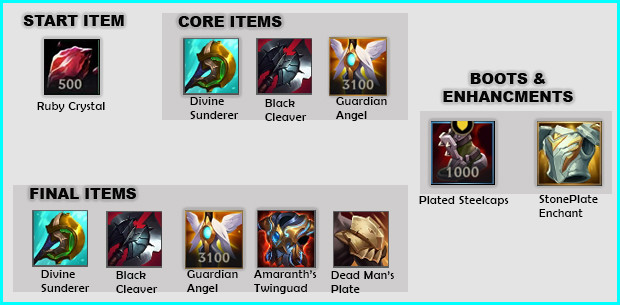 Volibear focuses on building 1 or 2 damaged items & tank items that make him can deal damage and also tanky in the team fight.
Divine Sunderer: +400 Max Health, +25 Attack Damage, +25 Ability Haste
Black Cleaver: +350 Max Health, +40 Attack Damage, +20 Ability Haste
Guardian Angel: +40 Attack Damage, +40 Armor & give back second life.
Dead Man's Plate: +250 Max health, +50 Armor, + Move Speed
Amaranth's Twinguard: +55 Armor, +55 Magic Resistance
For the Enchantment item buy a Steel-Plated Stoneplate that gives more Armor & Shield, 45 Movement speed when it is active.
Volibear Runes

Conqueror: Gain stacks of Adaptive force when hitting a champion with separate attacks or abilities. Stacks up to 6 times. When fully stacked, gain bonus Omnivamp.

Per Stack: 2-6 bonus AD or 3-9 AP for 6s
Fully stacked bonus: Melee: 8% | Ranged 5% bonus omnivamp.

Triumph: Champion takedowns restore 10% of missing health. Deals 5% more damage to champions below 35% health.
Ultimate Shield: Gain a shield after casting your ultimate or 3 seconds. The shield amount is 75 + level15. (45s Cooldown).
Pathfinder: Gain 30 bonus movement speed in the river. When in the river while out of combat, restore 1.5% missing health or 1.5% missing mana (based on lowest value) every 1 seconds and gain an additional 20 bonus movement speed.
Volibear Spells

+

Ignite: Ignite the target enemy champion, causing 72 true damage (72-380) within 5 second(s), apply Grievous Wounds to the target, and obtain its Vision. Grievous Wounds will reduce Heal effect by 60%.
Flash: Teleport a short distance forward or towards the aimed direction.
Volibear Skill Order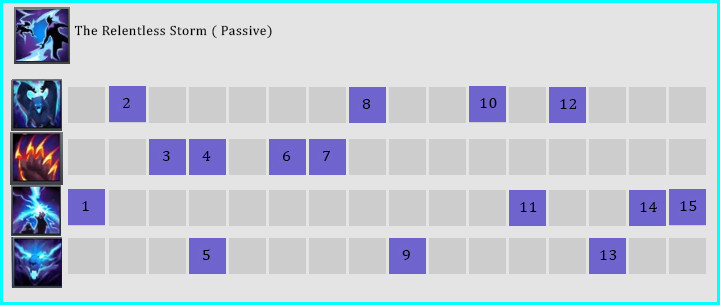 The Relentless Storm (Passive): Volibear gain 5% Attack speed for 6 seconds whenever he deals damage with an ability or attack, stacking up to 5 times.

At 5 stacks, Volibear's Claws ignite with lightning, causing his attacks to deal an additional 11(1-1+40%) magic damage to the target and 4 closet enemies.

Thundering Smash (1st Skill): Volibear gains 10% Move speed, increases to 20% towards enemy champions for the next 4 seconds. While active, Volibear's next attack deals 15 (15 + 100% bonus physical damage) and stuns the target for 1 second.

If Volibear becomes Immobilized before he Stuns a target, Thundering Smash's duration is paused.

Frenzied Maul (2nd Skill): Volibear mauls an enemy, dealing 67 (5+ 100% physical damage + 5% bonus heal) physical damage. If Volibear maul's a champion or Large Monsters he goes into a Frenzy for 8 seconds.

If this ability is used when in a Frenzy, its damage is increased to 108 (8 + 160% physical damage + 8% bonus heal) physical damage and Volibear restores 10 plus 10% (7%) missing health.

Sky Splitter (3rd Skill): Volibear summons a thundercloud that fires a lightning bolt, dealing 80 (80 +50%) plus 11% max health magic damage and Slowing by 40% for 2 seconds.

If Volibear is inside the blast zone, he gains a 91 (75%) plus 14% max health shield for 3 seconds.
Damage against non-champions is capped at 150.

Stormbringer (Ultimate): Volibear transforms and leaps, gaining 175 health and 50 attack range for the next 12 seconds.

Upon landing, Volibear cracks the earth, Disabling nearby tower for 3 seconds and dealing 300 (300 + 100% + 200% bonus) physical damage to them. Nearby enemies are slowed by 50%, decaying over 1 second. Enemies directly underneath Volibear suffering 300 (300 + 100% + 200% bonus) physical damage.
Volibear Skill Combos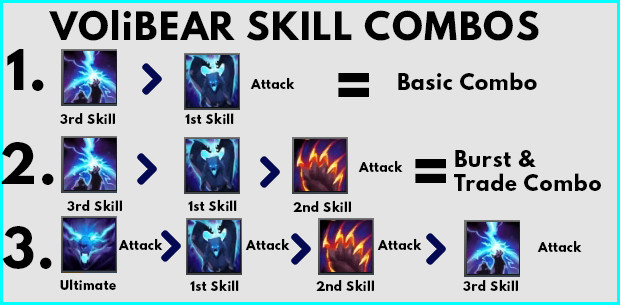 Volibear Pros and Cons
Pros
1. Good Early game to pressure the enemy in the lane.
2. Easy to dive in and setup for teamfight.
3. Can be a 2v1 Potential fight in early game.
4. Good at split-pushing tower.
5. Deal a good amount of damage.
Cons
1. Hard to make a play in late game.
2. Hard to escape if flash & ultimate is on cooldown.
3. Easy to lose fight if you make wrong move.
4. Hard to reach Ranged Champions in late game.
Conclusion
In short, Voilbear is a fun and easy champion to play & understand his skill but he is not the late game changer. Hope this guide can be useful for you guys to have a better understanding of this champion.