Choosing the correct build is really important in the game. This article will show you the best wild rift Ornn build. Which items & runes are the best for Ornn. Check out.
Ornn is a New Tank Fighter champion that makes his appearance in Wild Rift. He has a great ability to survive with defense & good movement, for the ability to buff teammates & crowd control enemies is also good, but this champion difficulty needs more time to practice to understand him well.
Ornn Build Wild Rift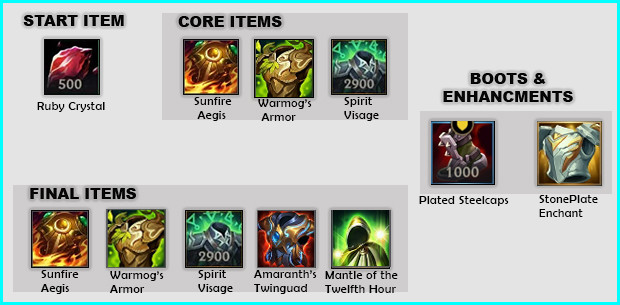 Ornn focusing on building Tank items that can make this guy become a Tank Monster and easy for him to take the front-line role in the team fight.
Sunfire Aegis: +500 Max health, +15 ability haste.
Warmog's Armor: +700 Max health, +200% Health Regens, +10 Ability Haste
Spirit Visage: +350 Max health, +100% Health Regen, +50 Magic Resistance, +20 Ability Haste
Amaranth's Twinguard: +55 Armor, +55 Magic Resistance
Mantle of the Twelfth Hour: +200 Max Health, +40 Armor, +40 Magic Resistance
For the Enchantment item buy a Steel-Plated Stoneplate that gives more Armor & Shield, 45 Movement speed when it is active.
You can also change 1 defense item above to Guardian Angel which gives a second life to get back in the team fight.
Ornn Runes

Grasp of the Undying: Every 3s in combat, your next attack on a champion will be enhanced. Bonus magic damage: 3% health + 20% bonus physical ATK +. Heal for 2%. Permanent health increase 5 on ranged champions, the effects are reduced by 60%
Weakness: Impairing the movement of enemy champions makes them take 5% more damage in the following 5s.
Conditioning: Gain 5 bonus AR and MR after 3 minutes of game time. Every 2 minutes after this gain 2 bonus AR and MR.
Demolish: When within 5.5 range of the enemy turret, gain a charge every 0.5 seconds, up to 6 times. When fully charged, your next basic attack against the turret deals an additional (200 + 30% Maximum Health) Physical Damage. Cooldown: 35 seconds.
Ornn Spells

+

Ignite: Ignite the target enemy champion, causing 72 true damage (72-380) within 5 second(s), apply Grievous Wounds to the target, and obtain its Vision. Grievous Wounds will reduce Heal effect by 60%.
Flash: Teleport a short distance forward or towards the aimed direction.
Ornn Skill Order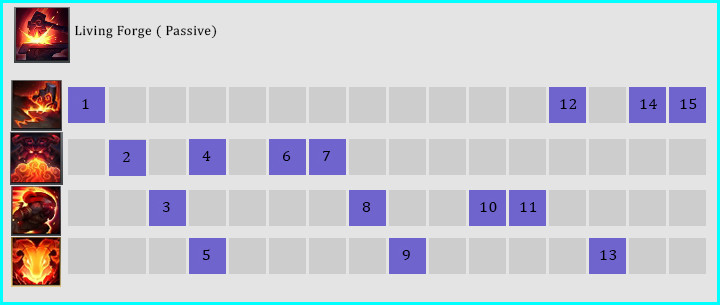 Living Forge (Passive): Ornn can spend gold to forge items anywhere on the map. Ornn gains an additional 11% bonus Heal, Armor, and Magic Damage from all sources.

Upon reaching level 7, crafting items with living forge grants a nearby ally 5 stacks of living Forge, allowing them to purchase items anywhere on the map. This buff stacks up to 15 times, this effect can be triggered every 3 levels (level 7/10/13).

Volcanic Rupture (1st Skill): Ornn slams the ground, creating a fissure dealing 84 physical damage (15+110% physical damage) and slowing by 55% for 2 seconds. A pillar of rock forms at the fissure's end for 4 seconds. The fissure stops shortly after hitting an enemy champion.
Bellows Breath (2nd Skill): Ornn stomps forward Unstoppably while breathing fire, dealing 13% max Health magic damage over 0.75 seconds. Enemies hit by the final bout of flame become Brittle for 3 seconds.

Immobilizing effects on Brittle targets have their duration increased by 30% and deal an additional 7% max Health magic damage (7% - 21% ). Ornn's Attacks against Brittle targets Knock them back, dealing additional damage.
Deals a minimum of 110 magic damage to minions, and a max of 155 magic damage to jungle monsters. Immobilizing deals a maximum of 250 damage to monsters.

Searing Charge (3rd Skill): Ornn charges, dealing 80 physical damage (80 + 50% bonus Armor) + 50% bonus magic damage). If Ornn rams into terrain, he creates a shockwave that Knocks Up enemies for 1.25 seconds and applies the same damage to those in the area.

Ornn's charge destroys magma pillars and terrain created by enemies and reduces the cooldown of this skill by 25%.

Call Of The Forge God (Ultimate): Ornn summons a massive lava elemental, which stampedes towards him, dealing 125 magic damage (125 + 20%), and applies Brittle for 3 seconds. The elemental also slows by up to 40% for 2 seconds, based on Ornn's level.

Ornn can recast this to dash with a headbutt. If he dashes into the elemental, he redirects and empowers it, causing it to Knock Up the first champion hit for 1 second and the subsequent champion for 0.5 seconds. The elemental also deals 125 magic damage (125+20) and reapplies Brittle.
Ornn Skill Combos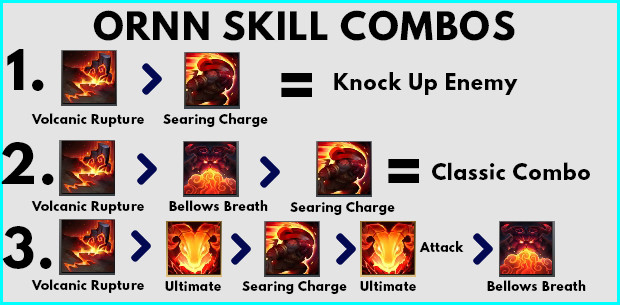 Ornn Pros and Cons
Pros
1. Tanky in early & lategame.
2. Brittle is really satisfying.
3. Good in team fights with great cc & damage.
4. Not a hard champion to learn.
5. Fun to play.
6. Useful even from behind.
Cons
1. Laning is a bit hard against lane bullies.
2. Can't Solo Carry the team
3. Need a good team to win
4. No damage to solo kill enemy
Conclusion
In short, Ornn is a fun champion to play well for the team fight synergies, A Tanky Beast champion can take a lot of damage in the front line for the team.