Here is some sneak peek information about Genshin Impact Hydro Archon Furina which is one of the Hydro Archons in Fontaine.
Furina Leaks
Finally, Genshin Impact has dropped a teaser "The Final Feast" that includes some sneak peek of the character from Fontaine and we get to know the real name of Hydro Archon Furina who has been leaked under the name of Focalors or Cliona. She also got a mention by Nahida in the Archon quest, by her real name Focalors as Chief Justice in Fontaine. She is one of the Archons alongside Neuvillette.
We also got to know her voice actor from the teaser:
Furina Voice Actor

Inori Minase is the Japanese voice actress
Amber Lee Connors is an English voice actress.
Who is Furina?
Based on the leaked, Furina(Focalors) is a Hydro Archon who uses the sword as her weapon. She is 5 stars character who has abilities that relate to gravity and it depends on max HP which made her a support/buff, However, we have to see her in the game to determine what her role is. She does have a pretty unique royal outfit with a magician hat similar to a crown and her blue dress which specifies that she is a hydro character.
Here is a sneak peek of her model, sword.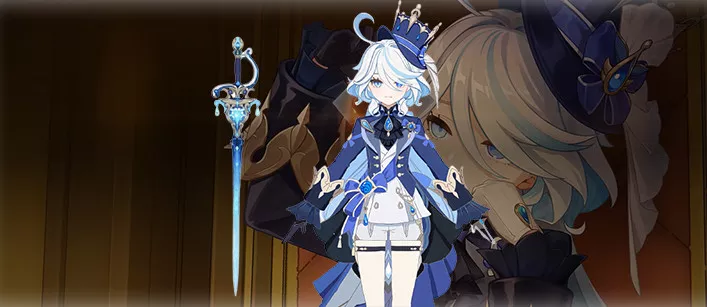 Furina Release Date
There is no confirmation about the release date yet, however, some Archon like Raiden Shogun and Zhongli release one version after the release of their region so if Hoyoverse want to follow this pattern then we expect to see them in 4.1 or 4.2 which is similar to Nahida release.
In conclusion
After releasing the teaser, Furina is one of the most exciting characters that all travelers waiting for. We still have to wait for the 4.1 release so we can get her gameplay and abilities. Anyway, this is just a leak of info so please take this with a grain of salt. We will update more about her in the future. Stay tuned!
More Leaks About Fontaine Characters