Clorinde is one of Genshin Impact's characters that appear in the teaser and come from the Fontaine region. Here is some information about Clorinde including her element, rarity, and Release date.
Clorinde Leaks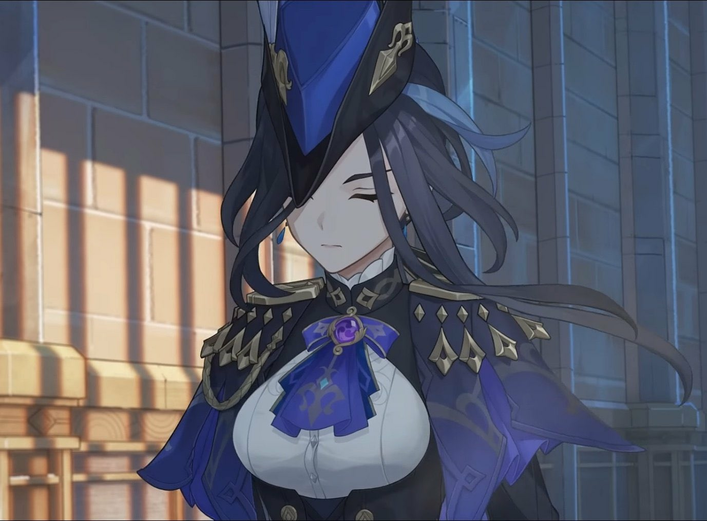 Clorinde is the one of characters that got a sneak peek in Genshin Impact has teaser "The Final Feast" which includes some sneak peek of other characters from Fontaine as well we also get to know her real name "Clorinde" who has been leaked under the name of Captain R.
We also got to know her voice actor from the teaser:
Clorinde Voice Actor

Yui Ishikawa is the Japanese voice actress
Crystal Lee is an English voice actress.
Who is Clorinde?
Based on the leaked image, Clorinde is an Electro character(because in the teaser her, collar has Electro vision on it) who uses the firearm as her weapon but we don't know exactly what weapon type it is or if this is the first new weapon type. From one leaker, Clorinde is 5 stars character. She does have dark blue hair and a captain outfit with a hat carrying a gun. However, we have to wait for the game's official debut to determine what her rarity and role are. All of this is just a leak of info and speculation so please take this with a grain of salt.
Clorinde Release Date
There is no confirmation about the release date yet, however, she is unlikely to release in 4.0 since Hoyoverse only posted only 3 characters such as Lyney, Lynette, and Freeminet. so we expect to see him in 4.1 or 4.2 however she might appear in some Fontaine quest as NPC.
In Conclusion
After releasing the teaser, Clorinde is one of the most elegant characters from Fontaine that all travelers waiting for. We still have to wait for the 4.1 or 4.2 release so we can get her gameplay and abilities. Anyway, this is just a leak of info so please take this with a grain of salt. We will update more about her in the future. Stay tuned!
End of Clorinde Leaks
More Leaks About Fontaine Characters