COD Mobile Season 3 is out now and there is a new log in function that allows you to link with Call of Duty account.
Get a reward of the character Outrider Arctic for free if you link to Call of Duty account.
Find out how to get Outrider Arctic here for free by following three simple steps:
Sign Up Call of Duty Account
1.Register Call of Duty account here. You will require an email that you can verify later on the process.
2.Link with one of the four gaming networks after you create the account.
3.Confirm your Call of Duty account in the email inbox that you use to register.
Link COD Mobile Account to Call of Duty Account
Now that you already have Call of Duty Account its time to change the login from facebook to Call of Duty instead.
1.Open COD Mobile.
2.Tap settings (the gear icon at next to friend list).
3.Look at top right of the corner of the screen and tap on the word linked.
4.Tap on Call of Duty button and it will open the browser for you to log in your Call of Duty account.
5.Type in your Call of Duty account email address and password to log in.
6. After you tap log in now with correct information, it will take you back to in-game and let you log in again but this time you need to tap on log in with Call of Duty instead of facebook.
Claim Outrider Arctic
After you follow all of the steps above you can now claim the sweet looking character skin: Outrider Arctic in your mailbox.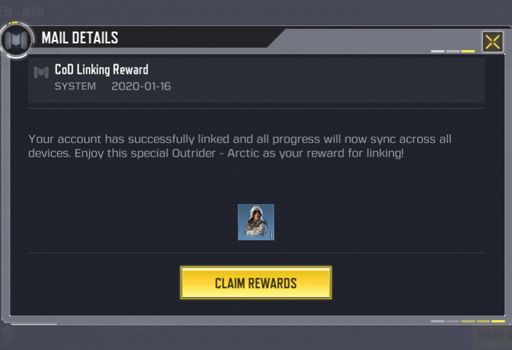 View this skin here in COD Mobile Character list.
Conclusion
This is an opportunity that should not miss, a free skin is really rare especially in COD Mobile (:
If you have get any error please leave your comment down below, I'll do my best to help out.