COD Mobile Valentine Special Time-limited event will feature the Ranked Mode selection for players to test.
On 14 February 2020 the Ranked Mode selection will release for COD Mobile garena player to test. However, there are no release date for global version yet.
Find more detail on how this change will impact the rank scene here!
Ranked Mode Selection - What's New?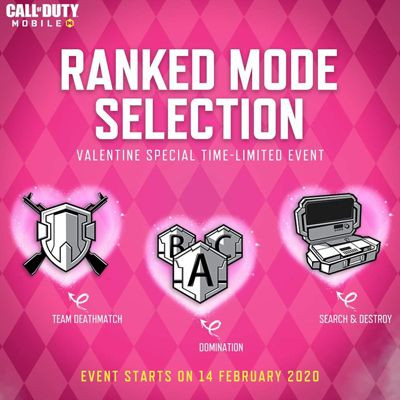 In current version of COD Mobile, we are force to play all three modes in ranked which are:
Team Deathmatch
Domination
Search & Destroy.
After the new update you will be able to choose from one of the three choices instead of playing the random gamemodes.
How the Ranked Mode Selection impact COD Mobile?
In current state of COD Mobile the random of ranked gamemode is really unbalance, sometime you won't be able to play anything other than Search & Destroy on summit which is really annoying for a lot of players.
Change Advantage
This ranked mode selection will improve in so many way for player because now you can play your favorite mode every matches.
Also you won't be afraid to get throw into a search & destroy match when you 10 points away from ranking up.
This rank mode change is also good for you because you can customize your loadout to fit the exact mode that you want to play with several gun choices.
Change Impact
However, the ranked mode selection will affect queue time because there will be three seperate queue for each gamemode. So we might have to wait a little longer before getting into a match.
As mentioned above, This change is just a specal time-limited event during the valentine update so we will come back to random ranked mode after the event end.
Conclusion
It is amazing to see that COD Mobile give what the community have asked since season 1. Even though it is a short period test but it is better than nothing.