Necromancer is a ranged mini in Warcraft Rumble with undead role that is powerful for dealing damage against high armored enemy. This mini cost 4 gold to deploy into the battlefield.
Find Necromancer best talent, stats, and traits here.
Best Necromancer Talent
Get to know all talent details of Necromancer and find the best talent for this mini that you should use or upgrade.
Ability List
Best Talent: Jeweled Skulls
Summon a Skeletal Mages instead of Skeletons.
This is the best talent for Necromancer, because it spawns a better Skeletal mages compare to the default Skeletons.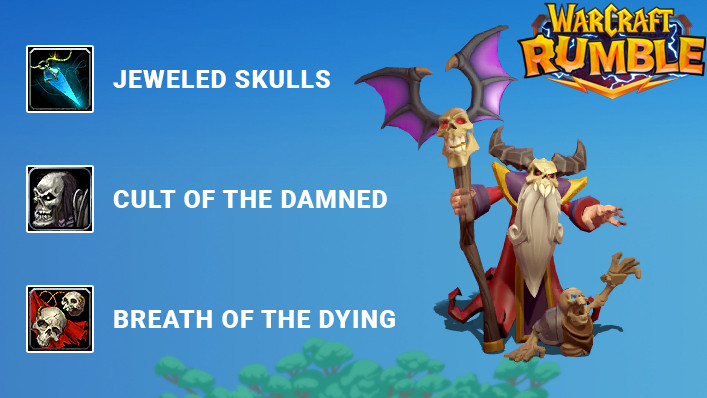 Cult of the Damned
On Kill, summon a Skeleton.
Breath of the Dying
On death, Summon 5 Skeletons.
Stats
Note: This is a base level stats of Necromancer.
| | |
| --- | --- |
| Health | 400 |
| Damage | 190 |
| DPS | 146.2 |
| Attack Speed | 1.3 |
| Range | 7.5 |
Necromancer mini: Endlessly summons Skeletons for protection while piercing through Armor with Elemental shadow bolts.
Necromancer is weak against squad minis like Whelp Eggs, Harpies, Raptors and other mini that spawn a lot of minis.
Traits
Elemental
Deals elemental damage.
Strong vs Armored
Summoner
Summons additional units.
Other Undead Minis