Find all information you need to know about Teamfight Tactics patch notes that have some changes on champions, traits, items, and systems.
Table of Contents
Patch 11.21 Notes Overview
This patch is the last patch note for TFT Reckoning Set. This patch will cover Champions, Traits that are buffed and nerfed.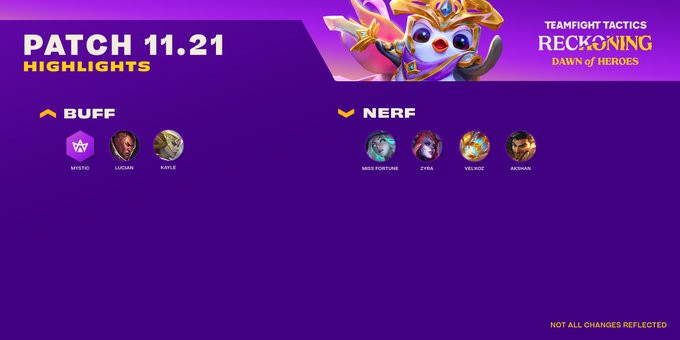 Large Changes
Champions
Miss Fortune
Make it Rain Damage: 250/375/600 => 250/375/550
Zyra
Grasping Roots Damage: 200/300/575 => 200/300/525
Lucian
Vel'Koz
Lifeform Disintegration Ray Damage: 900/1150/4000 => 850/1100/4000
Akshan
Kayle
3rd Ascension Immunity: Every 15th Attack => Every 12th Attack
Final Ascension Damage: 80/125/4000 => 90/150/4000
Trait
Mystic
Magic Resist: 40/80/150/250 => 40/80/175/300
Small Changes
Champions
Poppy
Buckler Toss Damage: 150/250/400 => 150/250/450
Syndra
Force of Will Damage: 250/350/600 => 250/350/650
Gwen
3-Star Gwen's snips now reach a much larger area
Heimerdinger
Upgrade!!! Damage: 400/600/3333 => 425/600/3333
Traits
Abomination
Stage Health and Attack Damage Scaling: 16% => 13%
Legionnaire
Attack Speed: 25/75/135/250% => 25/70/135/250%
Sentinel
Attack Speed: 20/80/500% => 20/80/600%
Bug Fixes
Running with Scissors: Gwen's Ability's base damage and percent Health damage no longer roll for crits separately. If Gwen's Ability critically strikes, both portions of her damage will crit simultaneously.