Find all information you need to know about Teamfight Tactics patch notes that have some changes on champions, traits, items, and systems.
Table of Contents
Patch 11.20 Notes Overview
In this patch 11.20 notes will cover Champions, Items, and Traits that are buffed, nerfed and adjusted.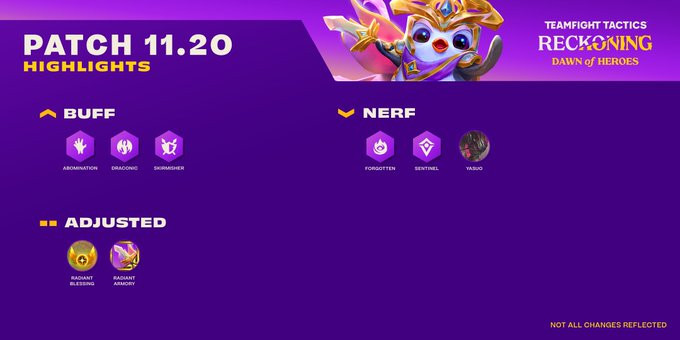 New Feature: Tactician Scouting
After a brief delay, your Little Legend will follow you to other player's board.
Systems
Radiant Armory
All players now get a second Radiant Armory at stage 5-1 (7-3 in Hyper Roll).
Radiant Blessing
Chance of getting a high quality drop: 10% => 18%
New: Added very rare high-quality drop of 3x Force of Nature (0.18% chance)
New: Added very rare high-quality drop of 2x Neekos Help +20gold (0.18% chance)
Large Changes
Champions
Kled
Violent Tendencies 4th auto, Attack Damage scaling: 200% => 150%
Attack Damage: 65 => 60
Vayne
Silver Bolts True Damage: 70/90/110 => 70/85/100
Attack Damage: 40 => 35
Brand
Sear Damage: 600/900/1500 => 650/950/1750
Aphelios
Max Mana nerf: 0/150 => 0/170
Jax
Empowered Strike Attack Damage Scaling: 200/220/400 => 220/240/500%
Traits
Abomination
Monstrosity Base Attack Damage: 70/80/100 => 70/90/110
Monstrosity Attack Damage Per Level: 7/8/10 => 7/9/11
Draconic
(3) four turn egg chance: 2% => 4%
(3) average Value of Egg: 2.9g => 3.1g
(5) five turn egg chance:1% => 2%
(5) average Value of Egg: 6.8g => 7.3g
(5) added a new 5 turn egg possible drop of 1x Fore of Nature, 2x Item Components, and 3x Heimerdingers. (20% chance inside the egg)
Forgotten
Bonus Attack Damage & Ability Power per stack: 20/40/70/200 => 20/40/60/150
Ranger
Attack Speed: 80/180/400% => 80/200/500%
Sentinel
Bonus Attack Speed: 25/90/500% => 20/80/500%
Shield: 1175/900/2000 => 175/800/2000
Skirmisher
Bonus Attack Damage per second: 3/8/16 => 4/10/20
Small Changes
Champions
Kalista
Pierce Attack Damage Scaling: 180/200/240% => 180/200/220%
Pierce Base Damage: 350/600/1000 => 350/600/900
Kha'zix
Taste their Fear Damage: 250/350/500 => 250/350/450
Taste their Fear Isolation Damage: 750/1050/1500 => 750/1050/1350
Vladimir
Soraka
Equinox Damage: 175/275/425 => 200/275/400
Tristana
Nocturne
Umbra Blades base Damage: 80/90/100 => 100/100/100
Nunu
Consume Damage: 450/700/1750 => 450/700/1600
Draven
Fiddlesticks
Mana buff: 50/125 => 60/120
Akshan
Heroic Swing bonus Attack Speed: 70/85/400 => 60/70/400
Kayle
Viego
At three stars is now very powerful
Items
Quickestsilver
Bonus Attack Speed: 40% => 45%