Find all information you need to know about Teamfight Tactics patch notes that have some changes on champions, traits, items, and game systems.
Table of Contents
Patch 11.18 Notes Overview
In this patch 11.18 notes will cover Champions, Items, and Traits that are buffed, nerfed, and adjusted.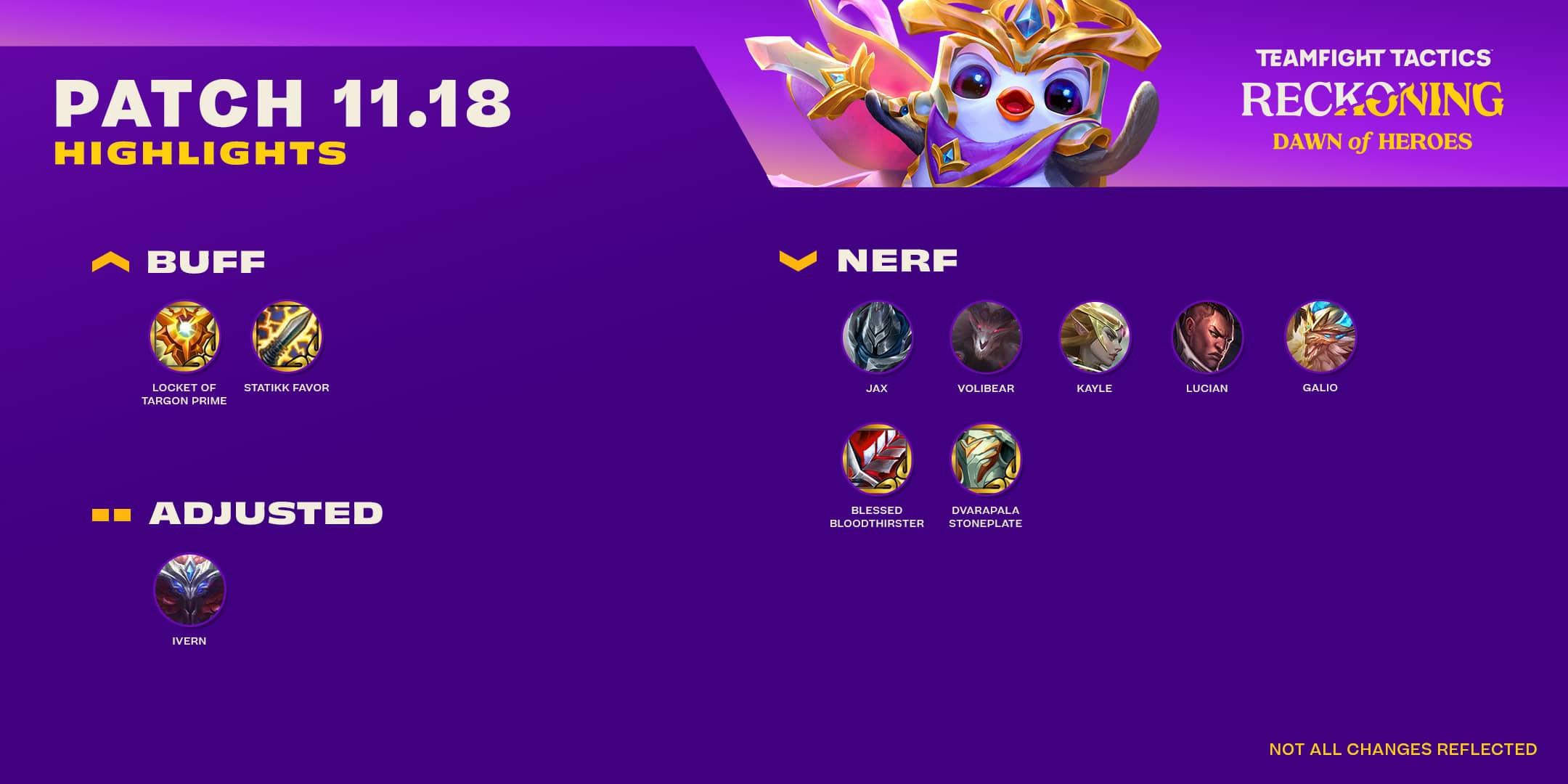 Large Changes
Champions
Draven
Attack Damage: 90 => 95
Spinning Axes Flat Damage: 150/200/800 => 150/225/900
Spinning Axes Attack Damage scaling: 170/180/340% => 170/180/400%
Galio
Shield of Durand Damage: 200/300/1200 => 200/300/1500
Shield of Durand Damage Reduction: 60/70/90% => 55/60/95%
Ivern
Ivern's Daisy Knockup Duration: 1.5/2/6 => 0.5/0.5/6 seconds
Ivern's Daisy Health: 1500/2400/10000 => 1600/2600/10000
Ivern's Daisy Attack Damage: 80 => 90
Jax
Health: 1000 => 950
Empowered Strike Attack Speed Bonus: 30/35/100% => 20/30/100%
Empowered Strike slam Attack Damage scaling: 200/220/300% => 200/220/400%
Lucian
The Culling magic Damage per shot: 50/90/400 => 40/70/400
Kayle
Attack Damage: 75 => 80
First Ascension Attack Damage Scaling: 80/90/1000% => 50/60/1000%
Volibear
Doombringer no longer destroys shields. Instead it will deal double damage to shields.
Doombringer damage: 150/300/5000 => 125/250/5000
Items
(Radiant) Blessed Bloodthirster
Health Shield Percent: 60% => 40%
(Radiant) Dvarapala Stoneplate
Armor and Magic Resist per Enemy: 40 => 40
(Radiant) Locket of Targon Prime
NEW: Radiant Bonus grants 200 Health for all allies at the start of combat
Shield: 600/700/800 => 400/500/600
(Radiant) Statikk Favor
Magic Resist Shred: 50% => 70%
Small Changes
Champions
Gragas
Drunken Rage Damage: 175/250/400 => 175/250/475
Pyke
Pyke will now always choose a new combat target after his dash. This improves his consistency at stunning units in the corner, especially when dashing short distances.
Nidalee
Nunu
Consume Damage: 500/750/1800 => 450/700/1750
Yasuo
Burning Blade cast time reduced
Aphelios
Dark Vigil Attack Damage scaling: 350/375/425% => 350/375/450%
Dark Vigil Base Damage: 150/200/400 => 150/200/500
Diana
Moonfall Damage: 300/450/2000 => 300/450/3000
Fiddlesticks
Crownstorm Damage: 150/200/600 => 150/200/750
Karma
Soulflare Damage: 230/290/750 => 230/290/850
Soulflare Mana Reduction: 15/15/30 => 15/15/40
Viego
Sovereign's Domination Damage: 180/360/2000 => 150/400/2000
Items
(Radiant) Frozen Heart of Gold
Gargoyle's Stoneplate
Armor and Magic Resist per Enemy: 20 => 18
Giant Slayer
Amplification when over threshold: 70% => 60%
(Radiant) Rapid Lightcannon
Bonus Attack Speed: 40% => 30%
Traits
Hellion
Attack Speed: 10/30/70/130% => 10/30/80/140%
Bug Fixes
No more hitting yourself: Players who miss AFK checks will no longer be unintentionally forced to serve a Queue Dodge penalty like their League of Legends Rift pals would face.
Brambling on and on: Bramble Vest no longer blocks more critical strike damage than intended
Cruel sightings: Teemo's Ability now specifies that its Attack Speed slow lasts 3 seconds
Culminated--again: Kennen's and Riven's stuns now properly cause Lucian to stop firing his Ability
Shooting blanks: Cannoneers holding Deathblade will no longer fire a nonfunctional Deathblade-related visual in rare and odd scenarios
Error 111151: TFT is about skillfully controlling variance. Some players have been able to ignore variability and skillfully link together firsts in pro=play. We are keeping an eye on this and discussing balance levers for pro players that are dominating tournaments too consistently. Exploration include: live base, spilling Milk on keyboards, and more live base.