Find all information you need to know about Teamfight Tactics patch notes that have some changes on champions, traits, items, and game system.
Patch 11.12 Notes Overview
In this patch 11.12 notes will cover Champions, Traits, and Items that are buffed, nerfed and adjusted.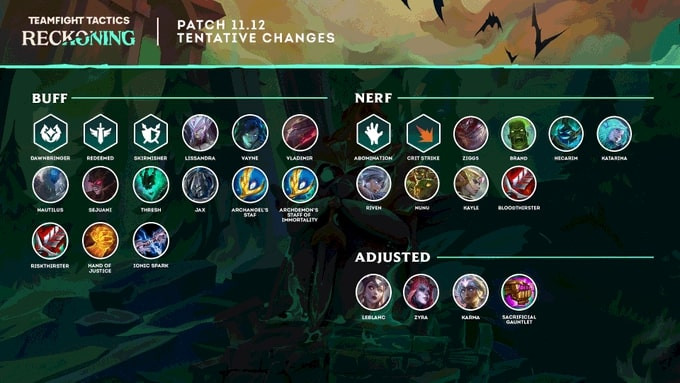 Systems
Loot Orbs
Reforger: Use to reroll item into other items of the same evil/vanilla variant and same tier (completed/uncompleted as well as emblems).
It's Unnatural: Force of Nature and Force of Darkness cannot be rerolled.
Magnetic Remover: Use to remove items equipped to a champion.
Armory
3-2 Armory (Changed): 2 Regular Components => 1 Shadow, 1 Regular
4-2 Armory (Removed): Removing the 4-2 Armory to prevent against forcing builds and an overabundance of items.
Armory Frequency: Starting on Stage 4, the Second Round of each Stage (4-2,5-2, 6-2, etc.) has a chance to have an additional Armory. These will have a variety of options including: Consumables (Reforger, Neeko's, Magnetic Remover, and Loaded Dice), Spatula, Item Components (Bow, Sword, etc.), Combined Items (Bloodthirster, Riskthirster, etc.), and Emblems (Completed Spatula Items).
Later stage drops are more powerful. A Stage 6+ Armory will no longer offer item components, and later Stage armories can offer Emblems for traits that you are playing.
Hyper Roll Armory: A bonus Armory can appear on 5-2, 7-2, 9-2, etc.
Hyper Roll Basic Armory rounds have been shuffled slightly to accommodate the newly stocked Armory.
Critical Strike Damage
Base Critical Strike Damage: 150% => 130%
Reach Traits
Dragonslayer 6: Now offers Dragonslayers 140 Ability Power and teammates 100 Ability Power
Ironclad 4: Allies gain 180 Armor
Renewer 6: Renewers Heal for 10% of their maximum Health each second, and at full Health, they restore 10% of their Mana instead.
Revenant 4: Renevants will revive with 75% of max Health.
Spellweaver 6: Spellweavers have 80 increased Ability Power and are granted an additional 8 Ability Power Per Cast, stacking up to 10 times.
Skirmisher 9: Skirmishers gain a shield equal to 60% of their max Health at the start of combat, and 10 bonus Attack Damage per second.
Buff Champions, Traits, & Items
Champions
Lissandra
1000 Daggers Primary Damage: 250/300/400 => 280/330/450
1000 Daggers Secondary Damage: 125/150/200 => 140/165/225
Vayne
Silver Bolts Damage: 65/90/140 => 70/100/140
Vladimir
Max Mana Buff: 0/85 => 0/80
Nautilus
Attack Damage: 65 => 80
Anchor Slam Damage: 150/250/700 => 200/300/750
Sejuani
Thresh
Jax
Empowered Strike Bonus Attack Speed: 20/25/60% => 30/35/100%
Aphelios
Max Mana Buff: 0/100 => 0/90
Vel'Koz
Attack Speed: 0.65 => 0.75
Traits
Dawnbringer
Redeemed
Armor/ Magic Resist/ Ability Power: 30/50/70 => 30/60/90
Skirmisher
Max Health Shield: 20/40/60% => 25/40/60%
Items
Archangel's Staff
Archdemon's Staff of Immortality
Riskthirster
Self Damage: 33% => 25% of Max Health
Hand of Justice
Attack Damage and Ability Power: 40 => 45
Ionic Spark
Magic Resist Shred: 40% => 50%
Nerf Champions, Traits, Items, & Stat
Champions
Brand
Mana Lock after casting: 1 => 1.5 seconds
Hecarim
Spirit of Dread now correctly scales with Ability Power
Spirit of Dread Damage: 450/600/1200 => 250/350/500
Spirit of Dread Healing: 300/400/800 => 250/350/500
Katarina
Sinister Blade Primary Damage: 200/250/450 => 200/250/420
Sinister Blade Secondary Damage: 100/125/225 => 100/125/210
Riven
Nunu
Max Mana Nerf: 0/70 => 0/75
Kayle
Divine Ascent 3rd Ascension Attack per Immunity: 7=> 10
Traits
Abomination
The Monstrosity now stops charging after slamming into two targets.
The Monstrosity now removes Attack Speed Slows and AD Reduction effects when he casts his spell.
Monstrosity Armor/Magic Resist: 40/50/60 => 40/60/75
Monstrosity Attack Damage: 100/160/220 => 90/150/200
Monstrosity Bonus AD: 10/16/22 => 9/15/20
Items
Bloodthirster
Titan's Revenge
Damage: 25% => 20% of pre-mitigation damage taken
Adjust Champions & Items
Champions
Leblanc
Ethereal Chain Damage: 200/250/500 => 100/150/250
Ethereal Chain Stun Duration: 2 => 1.5/2/2.5 seconds
Health: 550 => 600
Zyra
Max Mana Buff: 60/120 => 40/100
Grasping Roots Damage: 250/350/700 => 200/325/700
Karma
Mana Lock: 1.25 => 1.5 seconds.
Max Mana Buff: 0/60 => 0/50
Mana Reduction Per Cast: 20/20/40 => 15/15/30
Soulfire Damage: 200/250/600 => 240/300/700
Items
Sacrificial Gauntlet
Self Damage: 15% of max Health => 100% of max Mana multiplied by Star Level
Bug Fixes
Brand's cast no longer counts twice towards on-cast effects such as Archangel's Staff and Shadow Jeweled Gauntlet
Hecarim's Spirit of Dread now correctly scales with Ability Power
Vel'Koz will now find a new target for his Lifeform Disintegration Ray if his current target becomes untargetable (Guardian Angel, Revenant)
Stick em with the pointy end: Pantheon will now face his new combat target with Aegis Assault if his current target becomes utargetable (Guardian Angel, Revenant)
Damage ticks from Pantheon's Aegis Assault can now properly critically strike and be dodged
Re-Steeling the credit: Rell is now properly credited for her shielding in the Shields & Healing chart
No longer chasing thunder: Units should no longer attempt to chase Kennen if he dashes very far away
Fixed a rare Kindred bug where Wolf would get stuck in Lamp.