Find all information you need to know about Teamfight Tactics patch notes that have some changes on champions, items, traits, and game system.
Patch 11.11 Notes Overview
In this Patch 11.11 Notes will cover Champions, Traits, and Items that are buffed, nerfed, and adjusted.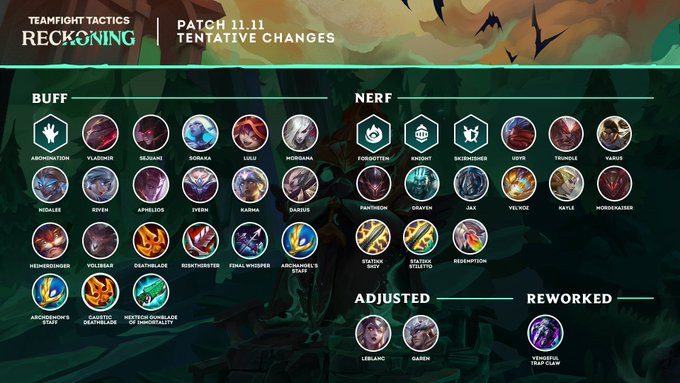 Systems
UI and UX Buffs
Recipe hints are now extended. When you right-click or tap an item to view recipe hints, you can then hover or tap the completed recipe to see what the full item does!
You have no mana! Blue Buff and Very Dark Buff now pop off of Champions with no mana
Zz'Rot Portal's item icon on PC now glows purple instead of greed so that it doesn't look like a Shadow item.
Shop Rates (Standard & Hyper Roll)
Giving clearer and stronger windows to hit 2 and 3 cost champions by differentiating shop rates at Level 6 and 7.
Level 6: 35/35/25/5/0% => 25/40/30/5/0%
Level 7: 19/35/30/15/1% => 19/30/35/15/1%
Carousel Shadow Item Rates
1 Shadow Item: 10% => 0%
2 Shadow Item: 75% => 70%
3 Shadow Item: 10% => 25%
4 Shadow Item: 5% => 5% (no change)
Loot Orbs (Standard + Hyper Roll)
Decision-Making Buff! All Orbs: Slightly lowered the odds of getting gold and increased the odds of getting champions of equal value.
Blue Orbs: Neeko + 2g (8% chance) => Neeko +1x Two Cost Champ (6% chance) or Neeko + 1x Three Cost champ (2% chance)
Buff Champions, Traits, & Items
Champions
Vladimir
Transfusion Damage: 250/350/450 => 300/420/540
Sejuani
Fury of the North Bonus Armor & Magic Resist: 60/120/300 => 100/150/300
Soraka
Max Mana Buff: 30/80 => 30/70
Lulu
Whimsy Attack Speed: 70/80/100% => 70/80/120%
Morgana
Health: 800 => 850
Starting Mana Buff: 60/120 => 80/120
Nidalee
Bonus Damage on nest attack after dodging/critting: 100/150/375 => 120/180/450
Riven
Blade of the Dawn Attack Damage Bonus: 90/100/130% => 90/100/150%
Aphelios
Ivern
Ivern's Daisy now properly stars up with Ivern
Daisy's Health will remain the same values but she now gains bonus AD while starring up
Daisy's Shockwave Damage and Stun Duration will now apply the proper starred up values rather than always using 1 star values
Karma
Soulflare Damage: 180/240/700 => 200/250/600
Darius
Starting Mana Buff: 30/100 => 40/100
God-Wolf's Carnage Armor Shred: 70% => 50%
God-Wolf's Carnage Armor Shred Duration: 10sec => 8sec
God-Wolf's Carnage Healing per Auto after cast: 10% => 15/20/50%
God-Wolf's Carnage Healing Autos after cast: 3/4/10 => 2
God-Wolf's Carnage Attack Damage Scaling: 160/200/2000% => 180/220/2000%
Heimerdinger
Heimerdinger Upgrade!!! Damage: 400/600/7777 => 500/650/7777
Volibear
Starting Mana Buff: 80/200 => 100/200
Traits
Abomination
Monstrosity Enrage Cast time reduced by 25%
Monstrosity Base Health: 1000/1400/1800 => 1000/1600/2200
Monstrosity Bonus Health per Star Level: 100/140/180 => 100/160/220
Monstrosity Attack Damage: 100/150/200 => 100/160/220
Monstrosity Attack Damage per Star Level: 10/15/20 => 10/16/22
Items
Deathblade & Caustic Deathblade
Riskthirster (Shadow Item)
Bonus Attack Speed Duration: 3 => 4 seconds
Final Whisper (Shadow Item)
Armor and Magic Resist Shred: 50% => 70%
Archangel's Staff
Archangel's Staff of Immortality (Shadow Item)
Hextech Gunblade of Immortality (Shadow Item)
Heal Target: Nearest ally with missing Health => Ally with lowest percent Health
Nerf Champions, Traits, & Items
Champions
Udyr
Feral Instinct (Tiger stance) Attack Damage: 130/140/200% => 120/130/180%
Trundle
Subjugate Ability Power Ratio: 100% => 50%
Subjugate Stat Steal Duration: 6 => 8 seconds
Varus
Holy Arrows Blessing On-Hit Bonus Damage: 40/60/100 => 40/60/90
Pantheon
Aegis Assault Damage Reduction: 75/80/90% => 65%
Draven
Spinning Axes Attack Damage Multiplier: 180/200/260% => 170/180/340%
Spinning Axes Bonus Damage: 150/200/500 => 150/200/800
Jax
Empowered Strike Bonus Attack Speed: 30/35/50% => 20/25/60%
Velkoz
Lifeform Disintegration Ray Damage: 1000/1250/4000 => 900/1150/4000
Kayle
Mordekaiser
Max Mana Nerf: 0/70 => 0/80
Traits
Forgotten
Attack Damage and Ability Power: 30/70/160 => 30/70/140
Knight
Damage Reduction: 15/40/90 => 15/40/80
Skirmisher
Shield: 300/600 => 20/40% max Health
Spellweaver
Ability Power: 20/60 => 20/50
Ability Power per Cast: 2/6 => 2/5
Items
Statikk Shiv & Statikk Stiletto
Magic Resist Shred: 70% => 50%
Redemption
Missing Health Heal: 25% => 20%
Adjust Champions
Leblanc
Ethereal Chain Stun Duartion: 1.5/2/2.5 => 2sec
Ethereal Chain Damage: 200/300/600 => 200/250/500
Garen
Starting Mana Buff: 30/100 => 40/100
God-Lion's Justice Magic Resist Shred: 70% => 50%
God-Lion's Justice Magic Resist Shred Duration: 10sec => 8sec
Rework Item
Vengeful Trap Claw
When combat begins, the holder and all allies within 1 hex in the same row gain a shield that blocks the first enemy Ability.
Bug Fixes
Kled will now properly receive start of combat effects before triggering the shield (in order to benefit from effects like Chalice of Power)
Redemption healing now shows up on the Shields & Healing combat recap
Stop hitting yourself. Self-damage from Shadow Items no longer provide stacks to Titan's Resolve
Fixed some loading screen tips that weren't accurate with respect to Hyper Roll
The following Champions' physical ability no longer still deal their damage despite triggering Trap Claw: Aatrox, Jax, Kalista, Sett, Varus
Zz'Rot Voidspawn corrupted by Viego now have the proper stats and effects
Fixed a rare issue where units could benefit from the Invoker trait despite it not being active.
With a Vengeance! Kalista's Pierce spear can no longer fail to hit if she dies after casting
Fixed an issue where a Trundle's Subjugate buff expiring while under the effect of an enemy Trundle's Sunjugate debuff could result in the Trundle becoming unkillable for the remainder of combat.
Spawn Camper... Thresh will no longer continue pulling Revenant enemies who are reviving.
Thresh can now start gaining Mana immediately after he stops pulling his target.
Extra Trolled: Fixed an issue where Trundle would sometimes not correctly lower his target's Health when casting.