RPK is amongst the forefront meta in Warzone 2, this LMG is very powerful, easy to use, and we have created the best RPK attachments and tuning for your loadout.
How to Unlock RPK in Warzone 2
To unlock RPK is in KASTOVIA Platform and in order to unlock RPK you need to level up your KASTOV 762 to level 16.
If you haven't unlock the RPK, you can find this LMG on the ground loot of Warzone 2 as well.
Best RPK loadout in Warzone 2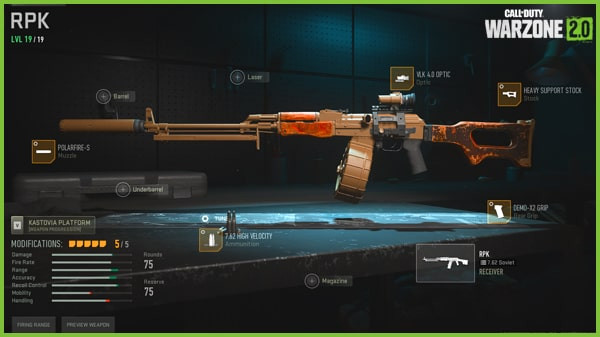 Here is Warzone 2 RPK best loadout build:
Muzzle: POLAFIRE-S
Optic: VLK 4.0 OPTIC
Stock: Heavy Support Stock
Rear Grip: Demo-X2 Grip
Ammunition: 7.62 High Velocity
This build make the RPK recoil easier to control in mid range combat which is what you need the most out of this LMG.
The Polarfire-S muzzle provide Sound suppression which keep you off the mini map when firing the RPK, it also increase damage range, bullet velocity, and recoil smoothness.
We use VLK 4.0 Optic for the RPK because it has the best zoom for mid range gunfight.
For Stock option we use Heavy Support Stock, this Stock give us Aiming Stability and Recoil control which reduce the gun sway when ADS.
For Rear Grip we use the DEMO-X2 GRIP to make the recoil even easier to control.
Lastly, We equip the 7.62 High Velocity ammunition to increase the projectile velocity so your bullet can hit the target even faster.
RPK Attachments tuning
POLAFIRE-S
Max Bullet Velocity: +1.00 in
HEAVY SUPPORT STOCK
Max Aim Down Sight Speed: -4.00 oz
Max Aiming Idle Stability: +2.40 in
DEMO-X2 GRIP
Max Recoil Steadiness: +1.00 oz
Max Aiming Idle Stability: +0.45 in
7.62 HIGH VELOCITY
Max Damage Range: +0.70 g
Max Bullet Velocity: -9.00 gr
The RPK is a powerful LMG that deal high damage at close and mid range targets, with our loadout and tuning we make it even more superior and feels easier to use than the base version.
Our Warzone 2 RPK loadout build to improve recoil control and recoil steadiness, which make the gun very accurate in it's prime range.
In Conclusion, the RPK is a very good gun that you should consider having in your Warzone 2 loadout drops.
OTHER LMGS LOADOUT: