HCR 56 is a LMG that can deal high damage, and fast fire rate it a good LMG for mid and long range in Warzone 2. Find how out HCR 56 perform in Al Mazrah map here with our recommend loadout.
HCR 56 Overview
The HCR is in Bruen Bullpup platform in order to unlock it you need to reach level 20 on STB 556 first this LMG is very good in mid range target.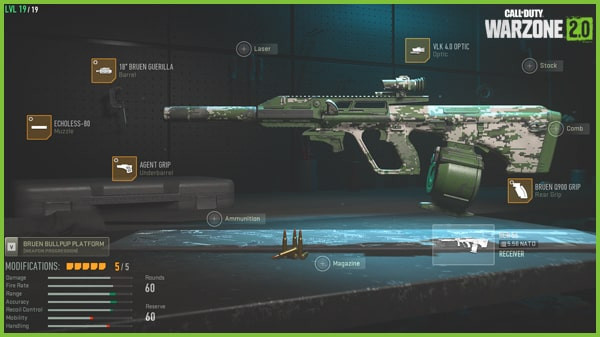 HCR is one the best LMG for mid range combat with it fast fire rate but the mobility is feels slow for the ADS speed and recoil control is good with the right attachment it gonna perform well in long range combat.
Best HCR 56 loadout in Warzone 2
Barrel

:

18 BRUEN GUERILLA

Muzzle

:

ECHOLESS-80

Underbarrel

:

AGENT GRIP

Rear Grip

:

BRUEN Q900 GRIP

Optic

:

VLK 4.0 OPTIC
We choose 18 BRUEN GUERILLA to help improve on the recoil control, ADS speed, and damage range which is very good for mid range combat.
For the muzzle we choose ECHOLESS-80 this give more damage range, recoil control, bullet velocity and sound suppression all that gonna help you a lot when playing it AL Mazrah map.
The Underbarrel we equip AGENT GRIP this attachment will improve aim idle stability and recoil stabilization which make the gun more accurate in mid or long range.
Rear Grip we choose BRUEN Q900 GRIP this rear grip will help improve recoil control and more ADS speed.
The last attachment on this gun is VLK 4.0 Optic to improve mid range and long range visibility, otherwise you can change this optic to any other optic that you prefer.
Our loadout build prioritize the overall accuracy, recoil control, and damage range which help the HCR 56 perform very well in mid and long range with this build it will sacrifice a good amount of mobility and ADS speed.
HCR 56 Attachments tuning
18 BRUEN GUERILLA
Max Recoil Steadiness: +0.50 lb
Max Hip Walking Speed: +0.40 in
ECHOLESS-80
Max Recoil Smoothness: +1.40 oz
Max Bullet Velocity: +1.00 in
AGENT GRIP
Max Recoil Stabilization: +0.80 oz
Max Aiming Idle Stability: +0.40 in
BRUEN Q900 GRIP
Max Recoil Steadiness: +1.00 oz
Max Aiming Idle Stability: +0.45 in
HCR 56 tuning is focus on toward damage range, accuracy, recoil control, and accuracy, so that you can be more accurate and easy to control when it come to mid or long range combat in Warzone 2.
Overall, the gun mobility and ADS speed feels slow with all attachment that we provide we're sure that it gonna perform well in Warzone 2.
OTHER LMGS LOADOUT: