Are you struggling to win mid and long range gunfight in Warzone 2? The EBR-14 might just be the right gun you need right now plus we have the best EBR-14 loadout down below.
EBR-14 Overview
The EBR-14 is a semi-automatic marksman rifle that deal high damage in mid to long range gunfight which is perfect in Warzone 2 environment.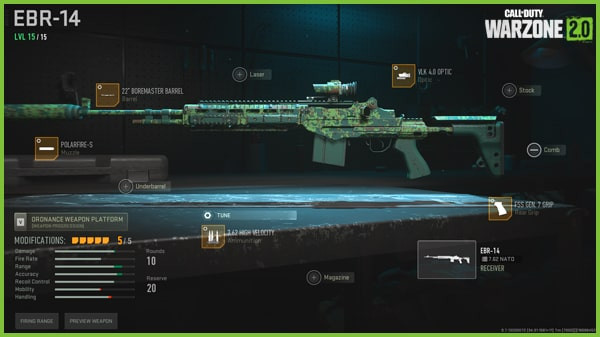 It is a great marksman rifle that can output range damage continuously with high stability making each of your shot very accurate.
The EBR-14 is automatically unlocked and you can also find it on the ground loot of Warzone 2 Al Mazrah. But if you want the best performance out of it, we have just the right loadout.
Best EBR-14 loadout in Warzone 2
Muzzle: POLAFIRE-S
Barrel: 22" BOREMASTER Barrel
Optic: VLK 4.0 Optic
Rear Grip: FSS GEN.7 Grip
Ammunition: 7.62 High Velocity
This is the best Warzone 2 EBR-14 loadout for mid and long range gunfight, we get higher damage range, and even more overall accuracy out of this build.
For EBR-14 Muzzle we choose the POLAFIRE-S to get that extra damage range, bullet velocity, and sound suppression to keep you off minimap when firing your weapon.
We choose the 22" BOREMASTER Barrel to improve our recoil control and get extra bullet velocity.
The VLK 4.0 Optic is a perfect range scope for the EBR-14 to help you track your target easier.
For Rear Grip we go with the FSS GEN.7 Grip to improve the EBR-14 mobility such as Sprint to Fire Speed and Aim Down Sight.
Our last attachment choice is the 7.62 High Velocity ammunition to help us get that even more bullet velocity.
EBR-14 Attachments tuning
POLAFIRE-S
Max Aim Down Sight Speed: -1.40 oz
Max Bullet Velocity: +1.00 in
22" BOREMASTER BARREL
Max Recoil Steadiness: +0.50 lb
Max Damage Range: +0.40 in
VLK 4.0 OPTIC
Max Aim Down Sight Speed: -3.00 oz
Far Eye Position: -1.35 in
FSS GEN.7 GRIP
Max Recoil Steadiness: +1.00 oz
Max Aiming Idle Stability: +0.45 in
7.62 HIGH VELOCITY
Max Damage range: +0.70 g
Max Bullet Velocity: +9.00 gr
Our EBR-14 loadout tuning focus on improving Recoil steadiness, Bullet velocity, and ADS speed which make the gun bullet hit the target very fast, less recoil bounce when firing, overall feels lighter than the base version.
In Short, the EBR-14 base version is good but with our recommendation of EBR-14 loadout and tuning we can guaranteed that you will win most range gunfight in Warzone 2.
OTHER MARKSMAN RIFLES LOADOUT: