If you looking for pinpoint accuracy and high damage in mid range LM-S is the one for you this gun take 4 shots on the up chest to down one enemy with purple armor.
Table of Contents
LM-S Overview
LM-S is the part of Lachmann & Meer platform you can unlock it by reach level 17 on Lachmann-762 .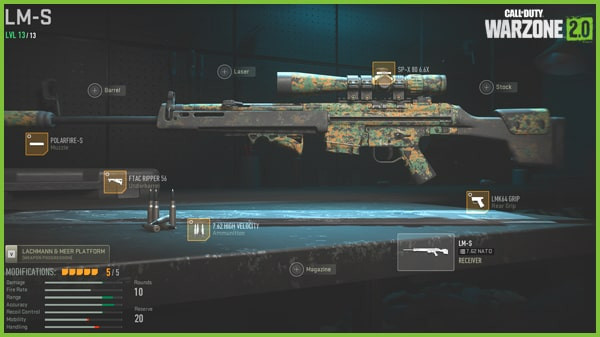 The LM-S is one of the best Marksman Rifle for mid and long range combat that can deal high damage and accuracy it can fire multiple shots with surprising speed and the recoil control is not that bad.
Best LM-S loadout in Warzone 2
Muzzle: POLAFIRE-S
UnderBarrel: FTAC RIPPER 56
Ammunition: 7.62 HIGH VELOCITY
Rear Grip: LMK64 Grip
Optic: SP-X 80 6.6X
For Muzzle we choose the POLAFIRE-S to get that extra damage range, bullet velocity, and sound suppression to keep you off mini map when firing your weapon.
We equip FTAC RIPPER 56 because this attachment help improve aiming idle stability, and recoil control.
We choose 7.62 HIGH VELOCITY Ammunition to help increase range damage, and more bullet velocity it very good for long range gunfight.
For the Rear Grip we choose LMK64 Grip this attachment will help improve the sprint fire speed and ADS speed which is very good when it come to mid range gunfight.
The last attachment is SP-X 80 6.6X Optic to improve mid range and long range visibility, otherwise you can change this optic to any other optic that you prefer.
Our tuning on LM-S is focus on toward damage range, accuracy, and recoil control, so that you can be more accurate and easy to control when it come to mid or long range combat in Warzone 2.
LM-S Attachments tuning
POLAFIRE-S
Max Aim Down Sight Speed: -1.40 oz
Max Bullet Velocity: +1.00 in
FTAC RIPPER 56
Max Recoil Stabilization: +0.80 oz
Max Aiming Idle Stability: +0.40 in
7.62 HIGH VELOCITY
Max Damage Range: +0.70 g
Max Bullet Velocity: +9.00 gr
LMK64 Grip
Max Recoil Steadiness: +1.00 oz
Max Aiming Idle Stability: +0.45 in
Our LM-S loadout tuning focus on improving accuracy, bullet velocity, and damage range which make the gun bullet hit the target very fast, and make the gun more accuracy in mid and long range.
Overall, LM-S is very good for mid and long range gunfight it can shots multiple rounds with fast fire rate but the recoil control is a bit hard when it come to long range combat.