After quite a while of Wild Rift news we've finally get another news regarding LoL Mobile limited alpha test.
Table of Contents
LoL Mobile Limited Alpha Test Released Confirmed
LoL Mobile also knowns as League of Legends Wild Rift is officialy confirmed that the Limited alpha test will come out next month but for only 2 countries.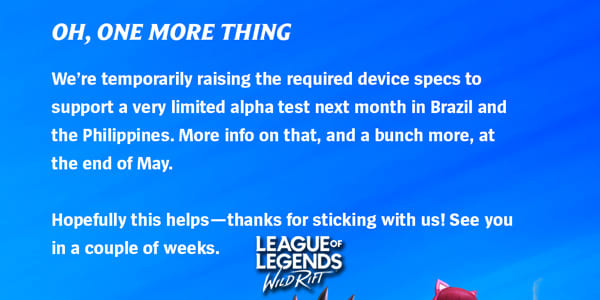 Those 2 countries are Brazil, and Phillipines the alpha test of Wild Rift also handed to a small limited players for testing purpose.
Even though those are the only 2 countries who will get their hand on LoL Mobile, the Wild Rift team also mentioned that a bunch more news will come at the end of May.
So stay calm, relax and wait for more update from the Wild Rift twitter.
LoL Mobile Minium Spec Requirement
Beside the LoL Mobile alpha test release date they also mentioned about the Minimum Spec of the game at launch as well.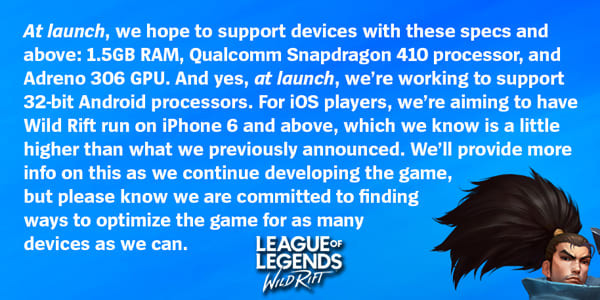 For Android:
1.5GB ram
Qualcomm Snapdragon 410 processor
Adreno 306 GPU
For iOS:
For more info about the LoL Mobile Alpha test, you can follow:
These are the 3 sources that you can 100% trust about anything related to League of Legends Wild Rift.
Conclusion
In conclusion, we are another step closer to the global release of League of Legends Wild Rift Beta, and now that 2 countries get their hand on the game, there will be more countries coming after.