Evelynn is a mage assassin champion in jungle that can deal a tons of AP damage choosing correct build is really important for Evelynn. Check out Evelynn Build Wild Rift Patch 4.3 here.
Evelynn Build Wild Rift Patch 4.3
The best main build for Evelynn are: Lich Bane, Infinity Orb, Rabadon's Deathcap, Void Staff, Cosmic Drive, and Ionian Boots with Protobelt enchant.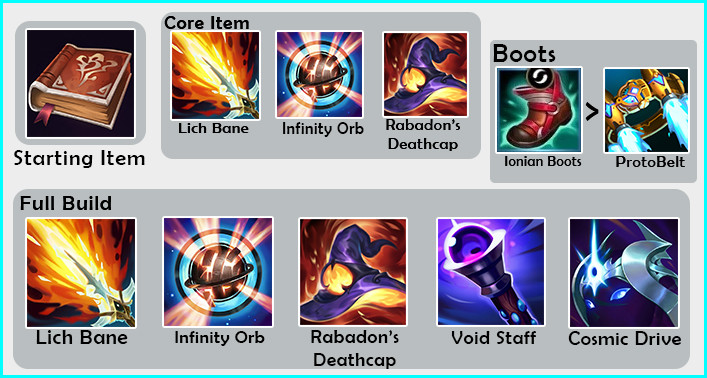 Lich Bane help increase Evelynn movement speed, ability power, and ability haste which is very helpful for Evelynn.
Second item you should get Infinity Orb to increase ability damage, magic penetration deal more damage to tank champion, and movement speed which is very good to help ganking allies lane.
Rabadon's Deathcap increase a huge amount of magic damage allow you to easily one shot squishy champion.
Get Void Staff when enemies build magic resistance.
Cosmic Drive boost magic output damage and more movement speed, when using abilities will empowered attack and gain bonus movement speed for a period of time.
Evelynn Second Build Wild Rift Patch 4.3
The best second build for Evelynn are: Lich Bane, Rabadon's Deathcap, Infinity Orb, Void Staff, Awakened Soulstealer, and Swifness Boots with Protobelt enchant.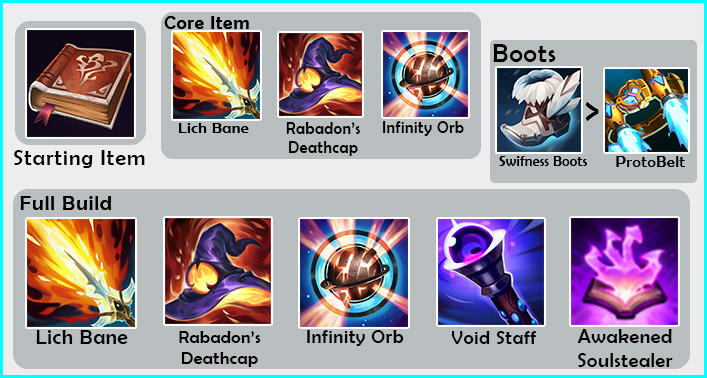 You need to focus on getting Lich Bane first and then you get Rabadon's Deathcap if you want to deal a lot of damage in early game then get Infinity Orb.
Void Staff very useful when enemies team has a lot of magic resistance, Void Staff will help her deal more damage to them.
Awakened Soulstealer get this if you want more cooldown and magic penetration, it help reduce the cooldowns of Evelynn abilities when take down enemy.
Swifness Boot or you can call it Boots of Dynamism to increase Evelynn movement speed and armor pen, movement speed allow her to move around the map quickly.
Best Runes For Evelynn Wild Rift
Evelynn runes Wild Rift: Conqueror, Triumph, Last Stand, Legend: Alacrity, and Second Wind.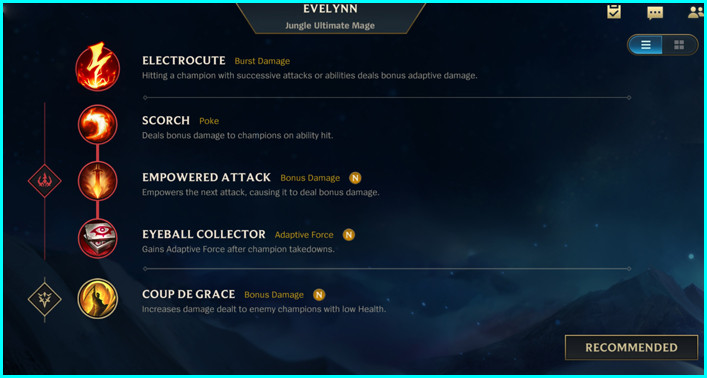 Electrocute: Hitting a champion with successive attacks or abilities Evelynn will deals bonus adaptive damage.
Scorch: Evelynn Deals bonus damage to champion on her abilities hit.
Empowered Attack: Empowers the next attack, causing it to deal bonus damage.
Eyeball Collector: Gain adaptive force after Evelynn takedowns her target.
Coup De Grace: increases Evelynn damage dealt to enemy champion with low health below 40% health.
End of Evelynn Build Wild Rift in Patch 4.3.