Here is a guide about Jadefall's Splendor catalyst including stats, effect, how to get, tier, tip & trick, and best character to use it.
Jadefall's Splendor Overview - Stats, Effect & How to get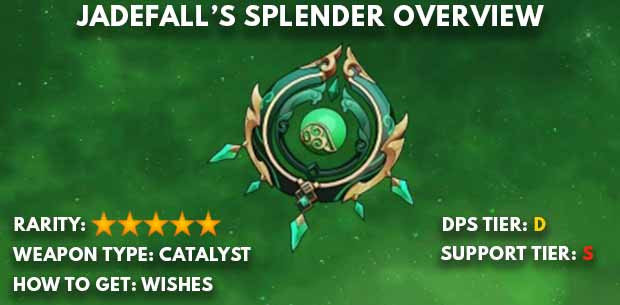 Jadefall's Splendor is An ancient gem that symbolizes the will of an ancient people who sought a promised land. It still gently emanates a mysterious ancient power that protects the land.
Stats


Base ATK: 46 (608)
Bonus HP%: 10.8% (49.62%)

How to get

Weapon Effect: Primordial Jade Regalia


For 3s after using an Elemental Burst or creating a shield, the equipping character can gain the Primordial Jade Regalia effect: Restore 4.5 Energy every 2.5s, and gain 0.3% Elemental DMG Bonus for their corresponding Elemental Type for every 1000 Max HP they possess, up to 12%. Primordial Jade Regalia will still take effect even if the equipping character is not on the field.
Jadefall's Splendor Tier
DPS Tier:

D




Because the Main stat is HP% this isn't a good catalyst to use with a DPS build.

Support Tier:

S

Even though this is really great for support but is not compatible with every supporting character.
How to use Jadefall's Splendor - Tip & Trick
This weapon effect will trigger after 3s so after using Elemental Burst or Creating a shield.
Use with a party member with the corresponding Elemental Type to gain Primordial Jade Regalia.
We recommend this weapon to off-field supporters since Primordial Jade Regalia will still take effect off-field.
Jadefall's Splendor - Best on characters
Baizhu

This is the best catalyst for Baizhu because it's his signature which increases healing abilities with his HP after he uses Elemental Skill.

Kokomi

Since her Elemental Skill and Burst are based on her HP, this will be a good catalyst to boost her healing and DMG.

Barbara

Both her Elemental Skill and burst are scaled on her max HP.
End of Jadefall's Splendor