With only 1 week remaining of Battle pass season 1, we will be seeing a major update coming so here are some weapons that we can expect in Season 2 update of COD Mobile.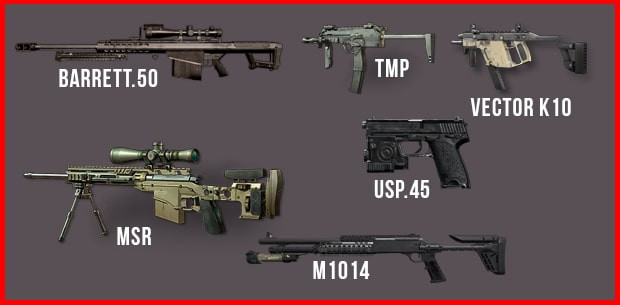 Note: There are no date confirmed on all these guns and when will be coming to Call of Duty Mobile yet.
TMP
TMP is a small submachine gun that has insanely high fire rate and it is has good damage. A good weapon to use in close range.
UPS.45
UPS.45 is a pistol that will become the third pistol type in Call of Duty Mobile.
MS
A new sniper rifle also appear in the leaked list. MSR is a bolt action sniper rifle that look alike to the current Arctic.50. Back in Modern Warfare 3 MSR is considered as one of the best sniper in the game.
M1014
M1014 is a semi-automatic shotgun that featured in Call of Duty 4: Modern Warfare and Modern Warfare 2. This shotgun can shot up to 10 bullets before reload.
MP7
MP7 is a submachine gun that is similar to the current best smg in COD Mobile MSMC. However we will see the different of the gun when it released.
R870 MSC
This gun is a pump action shotgun that deal very high damage in close range. You can expect this gun to deliver similar stats as HS0405.
Vector K10
Vector K10 is a submachine gun that has high versatility can be used in any situation and still bring out good performance.
Barrett.50
A Tactical Sniper Rifle Barrett.50 is a heavy sniper with the power of 1 shot 1 kill almost everywhere around the map. Known as Barrett. 50cal in Call of Duty 4: Modern Warfare and MW2.
More Leaked Guns
There are several more guns that also appear in the leaked list such as
Locus
MK48
G36C
Skorpion EVO
SVU-AS
GPAS-12 (S12K)
Weevil (P90)
However, we don't have any information on when exactly these guns will be coming into Call of Duty Mobile.