For this patch HVK-30, Holger 26, and LK24 hit with nerfs while AMAX CR56, ASM10, and Grau.556 get buffs. Dive deep into all nerfs and buffs down below.
Special thanks to Leakers on Duty for providing the patch notes.
Let's go through all the buffs first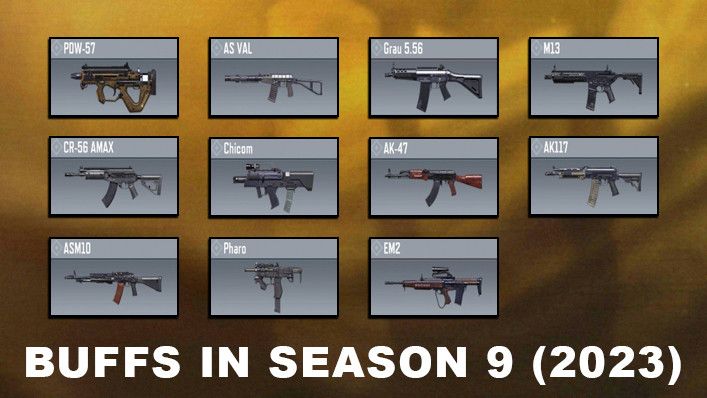 PDW57
Starting with PDW57, this smg gets slightly reduced lateral recoil buffs.
AMAX CR56
These buffs are apply to Multiplayer only:
2nd range increased: 23m → 26m.
3rd range increased: 28m → 30m.
M67 mag now increases BSA.
ASM10
This assault rifle get mobility buffs and recoil improvement:
ADS speed increased 280ms → 250ms.
Lateral recoil kick eased out.
AS VAL
These buffs are apply to Battle Royale only:
Last damage range removed: 28-25-22-17 → 28-25-22.
SPP 15 Round mag:

Removed flinch penalty.
Increased ADS bsa: 23 (7) → 23 (3).
Chicom
Small recoil buffs to the Chicom: Decreased lateral recoil.
Pharo
This smg receive recoil improvement and attachment buffs:
Decreased vertical recoil.
Taser recharge speed increased: 3s → 2s
Grau 5.56
This assault rifle receive mobility and attachment buffs:
Tempus 26.4" Archangel Barrel

Range increased 35% → 45%.

ADS movement speed penalty decreased: 15% → 12%.
AK47
This assault rifle receive small mobility buffs:
ADS speed increased: 270ms → 250ms.
EM2
The same mobility buffs also apply to EM2 assault rifle:
ADS speed increased: 280ms → 260ms.
M13
This assault rifle get damage buffs but it only apply to Battle Royale:
Damage increased: 24-18-16 → 25-19-18.
AK117
This assault rifle receive buffs and nerfs at the same time and it's only apply to Battle Royale:
Range increased: 12.5m - 24m → 14m - 25m.
Nerf: Slightly decreased aim assist.
Here are all Perk Adjustments
Echo Grenade
Scans per grenade: 1 → 2.
Spycraft
Reduces time required to hack enemy electronics.
Agile
Slightly increased mantling speed.
Demo Expert
Explosion damage increased: 25% → 30%.
Recon
Increased detection radius: 5m → 7m.
Here are all Weapons that receive nerfs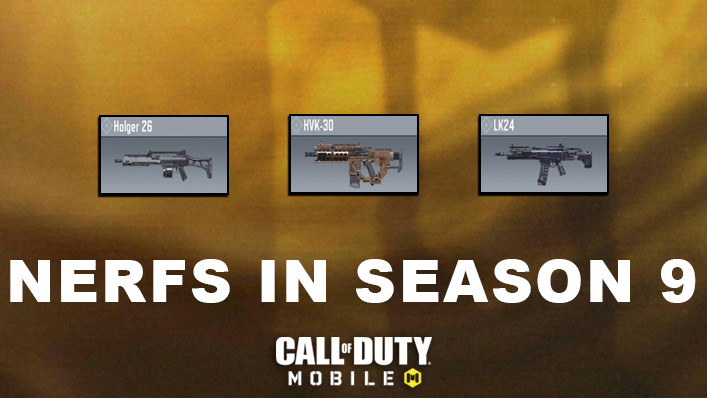 HVK-30
This assault rifle receive magazine attachment nerfs:
Large caliber ammo decreased: 32 → 28.
Holger 26
This LMG is taking another mobility hit to its attachment:
No stock ADS movement decreased:

+40% ads mobility → 25% ads mobility.
LK24
Last but not least, the LK24 also get hit with accuracy nerfs:
ADS bullet spread increased: 14 (4) → 16 (9).
Here are all Changes made to Battle Royale Classes
Shockwave Class
Recharge amount after upgrading decreased: 2 → 1.
Recharge time after upgrading decreased: 40s → 35s.
Kinetic Station Class
Armor value increased: 50/70 → 75/100.
Desperado Class
Added strong aim assist to shield turret.
Turret damage increased: 55-50-45-40 → 65-60-48-45.
Gain 1.1x multiplier for chest and arm shots.
Bullet speed adjusted to 640 m/s.
Bullet impact is set to 3.
Increased damage dealt to vehicles: 100% → 200%.
Our Thoughts on Season 9 Balance Changes
The Dev has made some great adjustments to the runner-up packof weapons such as ASM, AMAX CR56, and Grau 5.56.
We are excited to see how these buffs will perform against the leading pack such as Kilo 141, Krig 6, Switchblade X9, QQ9, and more.
Regarding the nerfs, it's not a very big nerfs, we think these weapons are still usable, you just need to adjust your playstyle according to the nerfs.
Overall, the Season 9 balance changes are shaping up for a great weapon meta change in COD Mobile.
You have reached the end of COD Mobile Season 9 (2023) Balance Changes.