Branson is a brand new ASM10 barrel attachments that release in Season 7 "New Vision City" 2022. Is the Branson good for ASM10? Find out the answer with special gift at the end.
How to get ASM10 Branson attachment?
In order to unlock the ASM10 Branson barrel you need to complete 7 tasks in ARea Control seasonal.
Play 2 MP Matches
Deal 1500 Damage in MP Matches
Kill 20 Enemies in MP Matches
Kill 20 Enemies with any Assault Rifle
Earn the Berserker Medal in 3 times in MP Matches
Kill 3 Enemies with Headshots with any Assault Rifle equipped
Win 3 MP Matches with any ASM10 Equipped (the ASM10 must be equipped in-hand at the end of the match)
Task Number 1 to 4 is pretty basic you just need to play several matches and get several kills to pass through.
But task number 5 is the reason why some of you might come here to know how to get Berserker Medal.
How To Get Berserker Medal in COD Mobile
In Call of Duty Mobile Berserker Medal is a medal that given to you when you Killed 3 enemies without dying.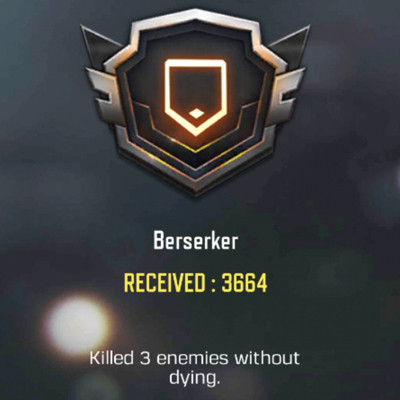 You will see the medal pop up in the screen when you achieve the Berserker Medal objective during your gameplay.
So link back to our task number 5 you just need to Killed 3 enemies without dying 3 times with any weapon.
After completing task number 5, we move to the next basic task #6 which is Kill 3 enemies with Headshots with any AR equipped. Simple AIM HEAD > SHOOT HEAD.
Unlock ASM10 Branson (Final Task)
After you've completed 6 tasks prior to this final task in ARea control, you are now in the final task before you are able to unlock the Branson attachment for ASM10.
Surprisingly, the final task is quite simple and easy to complete as well, you just need win 3 multiplayer matches while using ASM10. (any mode: Deathmatch, Hardpoint, Free for all,..etc.)
Now that you've completed all the tasks, you've finally unlocked the Branson attachment, so you hop into ASM10 gunsmith and equipped the new ASM10 Signature attachment. Enjoy! But wait final Question.
Is the Branson good for ASM10?
Short question, YES. The new Signature attachment Branson is very good for the ASM10, with little to no drawback when using the attachments beside reducing a small 5% of mobility, it is very needed for the ASM10.
Here is the in-game stats for Branson attachment:

When looking at the PROS column, we've noticed that Fire the first two bullets at a higher rate, consider ASM10 is a 3-4 shots AR, if you manage to hit the first two bullets at enemy head you are likely to kill that enemy very quick.
Beside that you also get a recoil reduction and increase Damage range which is always great for any weapons.
However, despite all the good that this attachments provide, it also reduce your mobility which mean you will need to play just a little less aggressive with the Branson attachment.
Best ASM10 Branson Loadout in Season 7
For those of you who make it here, we've have a special gift for you. Here is the best ASM10 loadout in Season 7 with Branson attachment:
Barrel: Branson
Stock: No Stock
Laser: OWC Laser - Tactical
Underbarrel: Tactical Foregrip A
Ammunition: 40 Round Extended Mag
With the Signature attachment Branson increasing damage range, first 2 bullets fire rate, and reducing recoil is the dream attachment for ASM10 players.
The No stock does it stuff providing high overall mobility with Hit flinch disadvantage but we can fix it with Toughness green perk.
The OWC Laser - Tactical is much needed for the ASM10 to improve that bullet spread accuracy, and another important factor which is reduced ADS time.
The Tactical Foregrip A is like a bread and butter for the ASM10 as well since it help reducing even more ADS Bullet spread make the gun accuracy even higher.
And the last attachment the 40 Round evented mag, make the ASM0 fire longer so that you can eliminate more enemies without having to reload.
Overall, This is the best loadout for ASM10 Branson attachment in Season 7 that we recommend you to try, everything is perfect in this build, you still maintain great mobility, good bullet spread, and overall high rating for the weapon.
Conclusion
In Short, we hope this article provide you enough information on how to get the Branson attachment for ASM10, answer your question of whether this attachment is good or not, and hopefully for those who make it to the end of the article receive an exclusive ASM10 Branson loadout for them to tryout. Thank you!