In Call of Duty Mobile Chinese Knots are use in Winter Wish event. Find out how to get Chinese knots, how to use it, and why you should play this event.
Winter Wish Event Details
Winter Wish is a new event in Call of Duty Mobile Season 1 2022 start from 2022.01.28 - 2022.02.14 (UTC).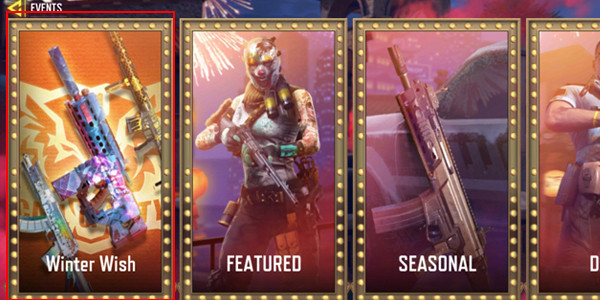 First thing after you tap in the event you will need to select 1 epic skin, 3 advanced rewards, and 3 featured rewards.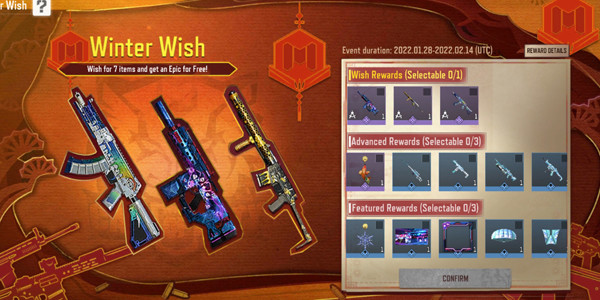 You won't be able to change the reward after you confirm it so choose wisely. After you confirm you will be provided a lucky draw screen with task that you need to complete daily.
How to get Chinese Knots
In order to get Chinese Knots you will need to complete the daily tasks at the side of the Winter Wish.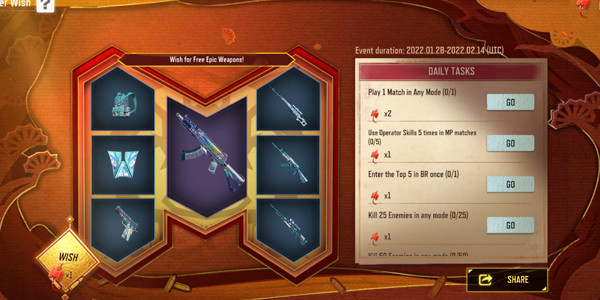 Make sure to claim it, any unclaimed Chinese Knots will not be kept.
The daily task will refresh daily at UTC 0:00AM.
How to use Chinese Knots
In Call of Duty Mobile Chinese Knots can be use to wish for the rewards that you have chose.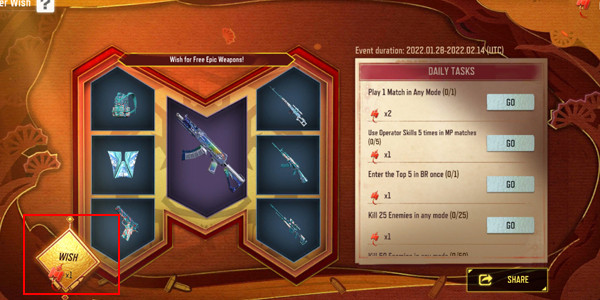 By earning Chinese Knots you can proceed to wish by tapping on the Wish button on the bottom left and get the reward generate by random algorithm.
The rewards are duplicated protected which mean that once you get the reward you won't get it again.
There are a total of 7 rewards which required a total of 7 wishes however each wish the Chinese knots count will increase so here are complete details:
1st Wish: 1 Chinese Knot
2nd Wish: 3 Chinese Knots
3rd Wish: 6 Chinese Knots
4th Wish: 7 Chinese Knots
5th Wish: 9 Chinese Knots
6th Wish: 9 Chinese Knots
7th Wish: 9 Chinese Knots
In short, you'll require a total of 44 Chinese knots to unlock all the rewards that you have chosen.
Why you should play Winter Wish event?
Well, it is a nice addition to add on into your grind list with extra challenge that given you extra focus on each match.
And you can also get 1 free epic weapons out as well at the end, so that is a win for F2P players that like to grind for free stuffs and this event is one of those event that required you to plays the game to get it.
Conclusion
In conclusion, Chinese Knots is an items in Call of Duty Mobile that you use it to wish for a rewards in an event call Winter Wish in Season 1 2022.