Heavy Shot Event is a new event in Call of Duty Mobile. In this event you can grind and get free KN-44 assault rifle and Prophet Sight character skins. Find more detail about this event here: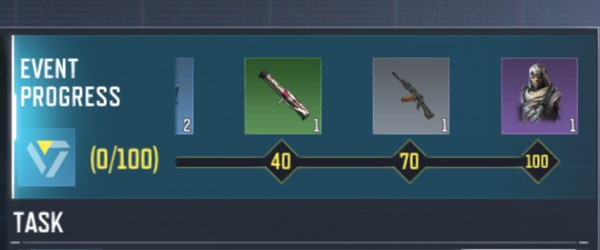 The Heavy Shot event progress require you to grind in multiplayer match for a total of 100xp.
With 12 total tasks in this event you can get up to 120 xp if you complete it all, which is an optimal choice, you will only need to complete 10 of event to get 100xp.
Heavy Shot Event Tasks
I handpick all the easy grind tasks for you to complete the event faster:
Play 30 Frontline Matches (20xp)
Play 30 Team Deathmatches (20xp)
Play 30 Domination Matches (20xp)
Play 15 MP Matches with Freinds (20xp)
Use Sparrow to Kill 15 Enemies in TDM (10xp)
Kill 10 enemies with Hunter Killer drone in Frontline matcches (10xp)
After you complete these tasks you will get a total of 100xp which is enough to unlock all the rewards in Heavy Shot event.
Heavy Shot Event Rewards
2x Credit Crate.
SMRS - Hearts
KN-44
Prophet - Sight
All Heavy Shot Event Tasks
Here are all tasks in Heavy Shot event:
Play 10 Frontline Matches
Play 30 Frontline Matches
Kill 10 Enemies with the Hunter Killer Drone in Frontline Matches
Play 10 Team Deathmatches
Play 30 Teah Deathmatches
Use Sparrow to KIll 15 enemies in TDM.
Play 10 Domination Matches
Play 30 Domination Matches
Occupy the Point 15 Times in Domination Matches
Place First or MVP in MP Matches 5 Times
Play 5 MP Matches with Friends
Play 15 MP Matches with Friends
Conclusion
Heavy Shot event is the first event that COD Mobile put in the free gun and character rewards for free to play players. This kind of event will expect to come more in the future. Call of Duty Mobile is stepping into the right step.