The Blackout map is coming to COD Mobile in the 2nd Anniversary update which is in September 23.
Here is the Strategy guide to Blackout from where you should land, High tier loots locations, to Hotspots that can get you high kill counts in early game.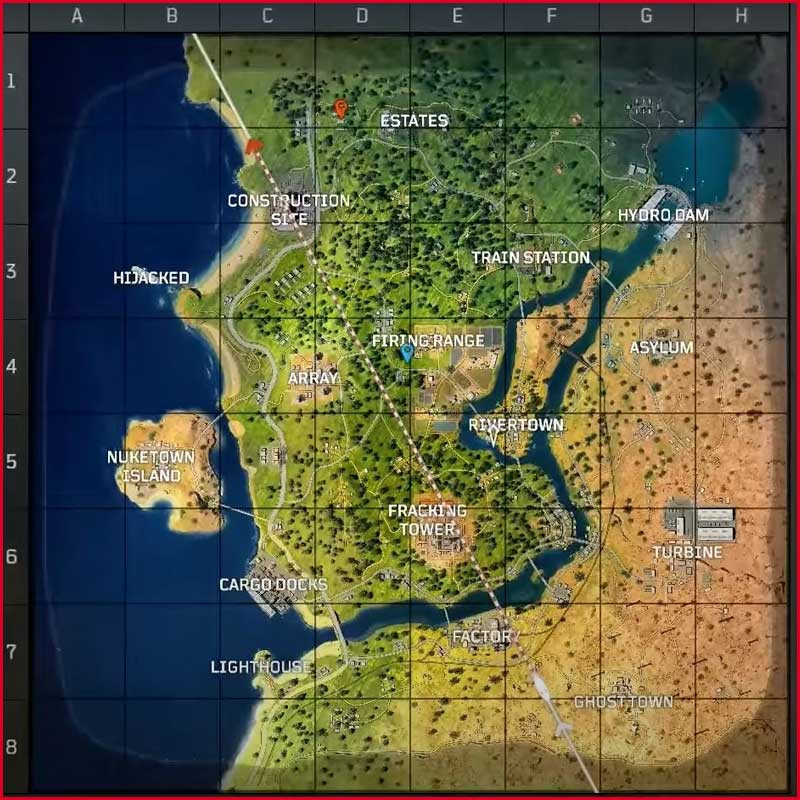 Blackout is a battle royale map with vast variety of areas such as Jungle, Desert, Islands surrounded with sea and connected by bridges from an area to another.
Your first drop into Blackout will encounters a diverse building clusters together in the city, military buildings, all types of compounds from huge to small, barn, and many more structures.
List of locations in Blackout
There are 16 Locations in Blackout such as:
ESTATES
CONSTRUCTION SITE
HYDRO DAM
HIJACKED
TRAIN STATION
ASYLUM
FIRING RANGE
ARRAY
RIVERTOWN
NUKETOWN ISLAND
FRACKING TOWER
TURBINE
FACTORY
CARGO DOCKS
LIGHTHOUSE
GHOSTTOWN
These are all the Blackout locations in COD Mobile that you can drop into as Solo, Duo, or with your Squad. With 16 locations fit into 3 huge areas connected by bridges and roads, choosing location to drop can be crucial.
Jungle area locations
In Blackout Jungle area are covered with Thick Forest, Trees, All types of terrains and some even required to travel on foot because it is too rough for vehicles.
There are 9 locations in the Jungle area such as:
Estates
Construction Site
Train Station
Hydro Dam (Left Side)
Firing range
Array
Fracking Tower
Cargo Docs
Hijacked (Close to the Jungle)
When landing in one of the locations, keep your eyes on all the trees and keep track of your surrounding because you can easily get flanked by enemies at any time.
Desert area locations
The Desert area of Blackout are complete opposite from Jungle area, you will see less trees and instead feel the huge vast of sand and rock of all types with different terrain to go through.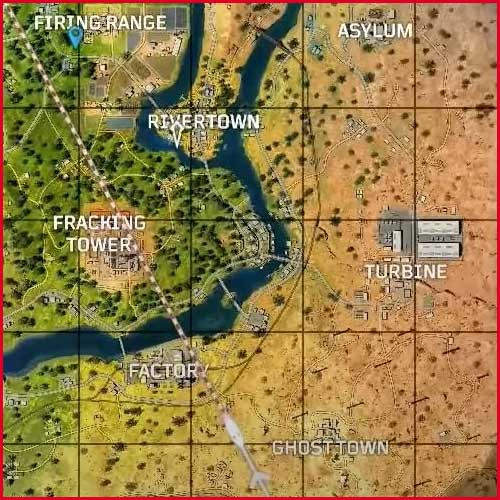 There are 6 Locations in Desert area such as:
Hydro Dam (Right Side)
Asylum
Turbine
Factory
Ghosttown
Lighthouse
Landing in the desert area will make you stronger due to less cover in the area so you are force to combat the enemies with your raw aim mechanic and you will be able to spot the enemies around you easily.
Island area locations
The lone lands surrounded by sea are unique of their own, One island is a small town that connect to Jungle area by 2 bridges and the other island are a huge town in the middle connected Jungle and Desert area together.
There are 2 Locations in Island area such as:
Only the toughest can make it out of these 2 islands, a small area that always produce the most chaotic battlefield in early game and are waited to slaughter whoever made it out of the island.
High tier loots locations in Blackout
In Blackout there are some locations that feature Higher tier loots than other. When dropping into these locations you are likely to find weapon very fast, good healing items which allow your combat advantages over enemies.
A location that contain High tier loots will attract a lot of players which is called a Hotspots and down below is all the Hotspots inside Call of Duty Mobile Blackout.
Hotspots to land in Blackout
At the end of the day Battle Royale is about shooting and surviving which give players adrenaline during matches, and there are a lot of adrenaline junkies out there that like to shoot people from early to the end of the match.
These location are for aggressive, high kills record / high skill players that live for all the gunfight and shoot whoever on sights. You are expect to land alongside 10 other players minimum in Hotspot locations.
Here are all the Hotspots locations that you can drop in Blackout:
Construction Site
"Fight for the High Ground" An under construction Buildings with multiple floors to loot in is also a sniper heaven and a lot of players like landing here even though they get sniped back to the lobby most of the time.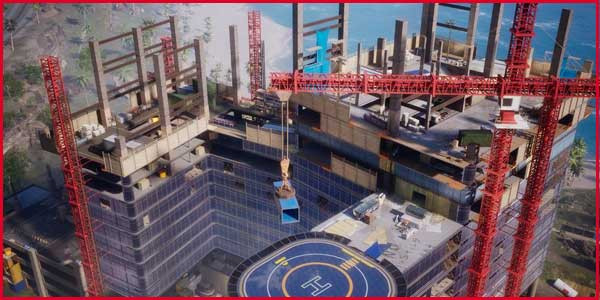 If the circle ended here make your way straight into the building for a better chance of survival and not getting sniped, you are also an easy target once other players heard your gunshots so take your shot carefully.
Ghost Town
The name sure is Ghost Town but the location is not even close, there will be at least 5 to 10 players landing here each and every single game, a small town with nowhere to hide is the nickname.
The loot here are greater than the covers, when dropping here you are most likely to fight until you run out of your ammo.
Hijacked
A YACHT, yes a Yacht that located near the shore of Jungle area are also the Hotspots of Blackout. This location are small / congested with only 2 pathway inside the Yacht and an underground.
If you somehow making out of this location, you are most likely to swim or riding a boat back to the shore and continue your elimination spree from there on.
Hydro Dam
Located at the Northeast of Blackout the Hydro Dam is also attract a lot of players to land there featuring high tier loots good weapons choice and a lot of underground to explore.
The Hydro Dam are 2 sided structure on both Jungle and Desert area, most of the gunfight happen here are either extremely close range or long range combat.
Rivertown
A big town located on the island in the middle of the map call Rivertown is also a popular location to drop into, the town is packed with all type of house and feature a high tier loot.
Most gunfight happened here are in very close proximity and making out of the town is a nightmare, there are 4 bridges that you can get out from or swim to either the jungle shore or the desert shore.
However if the circle end here you'll be the one shooting a lot of fish that try to swim in other to get into the zone.
Conclusion
In short, this is a strategies guide for you to get to know the location of Blackout map in Call of Duty Mobile. Know where to land, how to take gunfight, and prepare yourself for the real experience on September 23.