Call of Duty Season 04 has been released for Modern Warfare 2, Warzone 2, as well as Warzone Mobile. Get up to speed with what's new in Season 4 of Warzone Mobile here.
New Weapons
ISO 45 and Tempus Razorback are the two new weapons in Season 4. You can unlock both of these guns from Season 4 Battle Pass for free.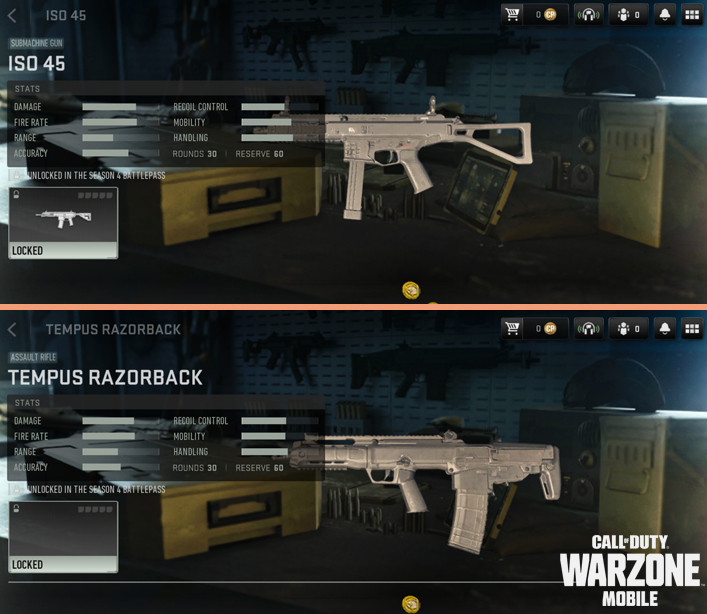 ISO 45
To unlock ISO 45 in Warzone Mobile you have to reach tier 20 in Season 4 Battle Pass.
ISO 45 is a submachine gun with high damage and fast fire rate with great mobility. Recoil wise, it is pretty easy to control. Overall, the ISO 45 is a great submachine gun for close range gunfight.
Tempus Razorback
To unlock Tempus Razorback in Warzone Mobile you have to reach tier 45 in Season 4 Battle Pass.
The Tempus Razorback is Assault rifle that deals high damage and hast fast fire rate with good recoil control. Overall the Tempus Razorback is good for close and mid range gunfight.
New Melee: Tonfa
Beside weapons, You can also unlock the new melee named Tonfa in Season 4 as well.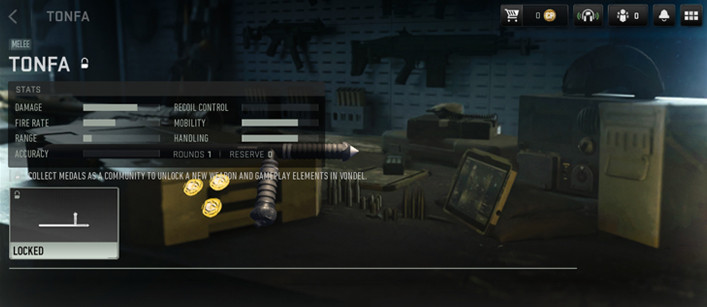 To unlock Tonfa: Collect Medal as a Community to Unlock a New Weapon and Gameplay element in Vondel. As of right now, the way to unlock Tonfa is unclear when it comes to unlocking it in Warzone Mobile.
New Lethal: Smoke Grenade
After a long while of struggling with no cover, you can now use Smoke Grenade in Warzone Mobile. It's a very useful piece of item that can save you from getting shot at when you don't have cover.
New Field Upgrades
They have mentioned that there are 2 new field upgrades in Season 04 such as: Sticky Cam and Tactical Camera.
Tactical Camera is an underrated field upgrade that is great for providing information out of your line of sight.
We only found the Tactical Camera field upgrade as of right now.
New Multiplayer Game Mode: Search & Destroy
Search & Destroy is a very popular game mode in every Call of Duty genre, and you'll be able to experience this mode in Season 4 of Warzone Mobile.
Search & Destroy has simple rules: Teams take turns planting or defusing bombs, each round has no respawns.
New Multiplayer Killstreaks: Stealth Bomber
Stealth Bomber is a new killstreak for season 4. Call in a bomber that releases a large line of explosives along its path.
Scorestreak needed to call in Stealth Bomber:1250.
Killstreak needed to call in Stealth Bomber:10 Kills.
General Updates Patch 2.6.0
Added iOS/Android Backbone Controller Support.
Added Gulag Skip.
Improved Main Hub.
Improved Loading Sequence.
Improved Settings for Swap Weapons.
Improve Tutorial Screenshots.
Expert Path Improvements.
Improve UI Progress Bar.
Bug Fixes
Fixed cruise missile animation upon start.
Fixed device heating issue when playing while charging.
Fixed an issue with unresponsive connection with controller.
Fixed an issue where game restarts and crashes after changing device navigation system.
Fixed an issue where player get stuck at loading screen after attempting to upgrade from a Guest account.
Fixed an issue where player can crash the game by continually pressing the "Play" button.
Fixed an issue where player gets sent to Main Menu after attempting to send a first message to a friend.
Fixed an issue where manual fire buttons become unresponsive after player picks up weapon during a Battle Royale match.
Fixed an issue where "Report Player" button sends players back to the Main Menu.
Fixed an issue where player is sent back to the Main Menu after equipping a new Primary or Secondary weapon.
Known Issues
After selecting "Skip Celebrations", the game almost freezes immediately after using tokens to skip tiers in Battle Pass.
In Clas Mode, players can gain infinite health regeneration from the "Quick Fix" Perk after capturing a point.
When the player disconnects from a cellular network while in BR during the drop-in cutscene, the screen will freeze before displaying a disconnection error message.
When the player is parachuting, the ping will not lock on to location.
Weapons in Gunsmith will not display the correct information unless "Optic Attachment" is turned on.
When a teammate is down near a door, the action buttons begin to overlap.
Players experience performance issues and the game crashes when switching volume settings.
Overall, Warzone Mobile Season 4 Path 2.6.0 looks promising with a lot of new and improved functions added into the game as well as new mentioned weapons, game modes, killstreaks which make the game more refreshing after Season 3 ended.