Here is the information about Valorant Act 2 Including New Agent, Battle pass, and Game Mode.
Patch 1.05 Overview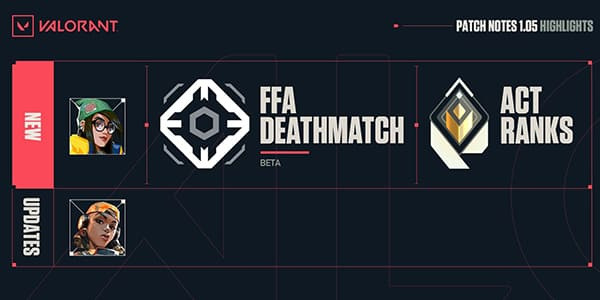 Killjoy

is the newest Valorant agent who born in Germany. She is a crafty engineer that has the ability to deploy a gadget and robot to take control site. Her ability is like a combination between Cypher and Raze.
There Is a little change in

Ranks Act 2

Which shows how many wins you have in competition mode.

Death Match(beta)

is a new game mode that lasts about 6 min
New Agent - Killjoy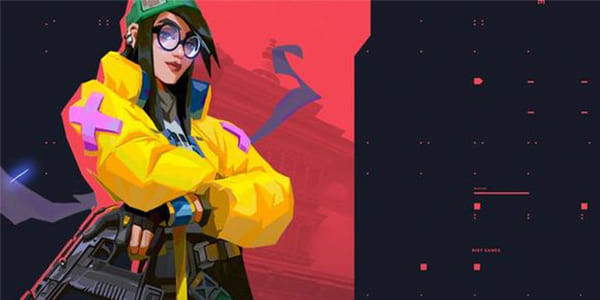 Killjoy is a new agent in Valorant Act 2. Similar to Cypher and Raze, Killjoy has a lot of abilities that deploy a robot and gadget which gathering enemies information and eliminate them by explosive damage.
Here are Killjoy abilities:
Alarmbot: Deploy the bot on the ground. After enemies reach in range the bot instantly explodes and temporarily applies vulnerable to double from all damage source.
Turret: Deploy a turret on the ground. This turret can fire enemies in 180 Degree cone.
Nanoswarm: Fire to throw a grenade on the land and activate Nanoswarm to deploy a damage of nanobot in that range.
Lockdown: Deploy and wait until it completely windup, it detains all enemies that caught in the radius. This device can be destroyed by enemies.
Competitive Ranks Act 2 & Act Ranks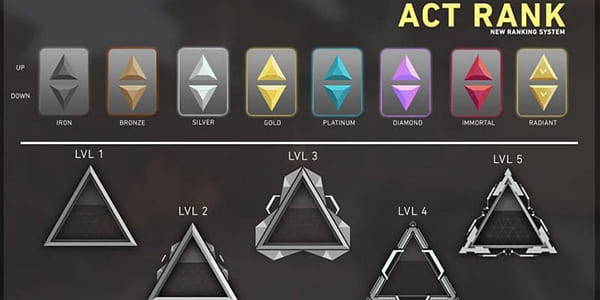 The takeaway: After an Act, all that matters for your Act Rank are your 9 best ranked wins of the act, and how many wins you've gotten in the act. So if you peak at Diamond but drop to Gold, your act rank will only remember the good times. Take another run at immortal, push those lower rank games out!
Let's break down the details:
Your rank will still be a close reflection of your current rating
We are now introducing"

Act Ranks

" which track your proven skill ( this is new!), highest ranked win, and # of competitive wins in the Act

At the end of the act

, your Act Rank will be preserved as badge on your player card in Competitive Game (and in your career history)
Your proven skill is your

9th best ranked

win of the Act, to demonstrate you can consistently win at that level
Your highest ranked win is self-explanatory: It's the highest ranked win you've achieved in the act( right at the top of that triangle)
Your Act Rank Border is the surrounding border that evolves based on your number of competitive wins in the Act
You'll also be a ble to review past Act Rank info in your Career Tab
Here's what happens at the end of an Act for Competitive:
Your Prior Act Rank will be saved and locked in your Career tab
Act 1 competitive data will be saved
You will be put back into abridged placements.
it will take 3 games to display your rank instead of the initial 5
These placements are quicker as we will reference your MMR from the prior Act, so we can quickly assess your skill for the current Act.
Your rank will be a conservative placement where we are confident you are able to compete at that skill level- or higher.
Typically, your Rank will land a couple of tiers below where you ended the prior Act, but we'll be increasing how heavily weigh performance in your early games so you can quickly improve your rank if you play well and win
Placement games don't count toward earning your Act Rank.
Credit to playvalorant
Game Mode - Death Match
Death Match is a new mode in Valorant. The player will be spawn as a random agent (owned) to kill each other. In order to win the game, you have to get 30 kills in 6min before anyone else. Each player will be given armor automatically and buy any gun you want. There are no abilities. You pick up health kit drop by eliminating enemies that give you health/armor and auto-reload. All enemy's location will appear on the minimap so there is no way to hide!
Conclusion
In conclusion, This update is a pretty good step up from last time especially the new agent Killjoy. Also you can warm-up or practice your aim in Deathmatch mode before entering competition mode. Moreover, Act 2 Rank will define your performance and more give more balance to the game.