Rory's Music Dreams is a new event in Undawn that starts on 19/10/2023 - 02/11/2023. Participate in this event to make Rory's Music Dreams come true.
Event Instructions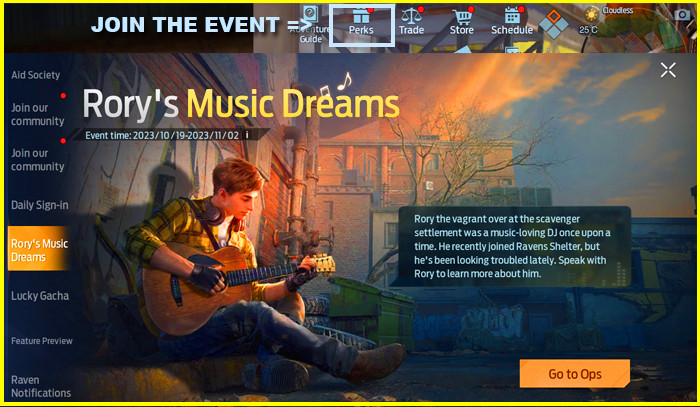 Rory the Vagrant loves to play music and sing, so it's a pity that his amp, microphone, and guitar are all so worn out. He has asked the survivors to help him collect parts from scraps and repair his music equipment.
How to Take Part in Rory Mission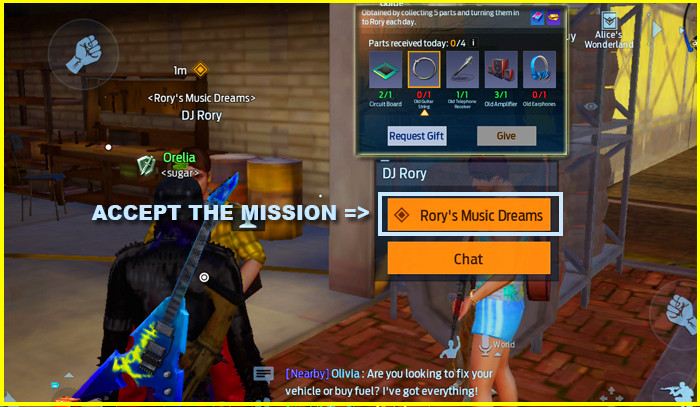 Go to Rory's Music Dreams Event as we mention in the image above. Then Click Go to Ops it will lead you to meet Rory and you need to accept his prerequisite mission, and learn about his music dreams.
You need to collect all 5 parts of musical equipment such as the Circuit Board, Old Guitar String, Old Telephone Receiver, Old Amplifier, and Old Earphones to help Rory complete the mission and get back the mission rewards.
To get all the 5 musical equipment parts you need to accept his prerequisite mission then you will be able to rummage for useful junk 6 times per day.
You will get a Random Part each time you rummage for useful junk. If you use all 6 rummage you will need to wait for the next day to get 6 times more.
The number of rummage searches resets each day and does not roll over to the next.
You can ask for donated parts from your friends, team, camp, or nearby channels. And you also give back any parts back to your friend too.
You can only receive 4 parts of music equipment parts from your friend.