Fruit Spin is a New Event in Undawn. You can enjoy the draw and earn a lot of rewards plus the Score points which you can use it to exchange in the store. Check out down below:
Event Details & Rules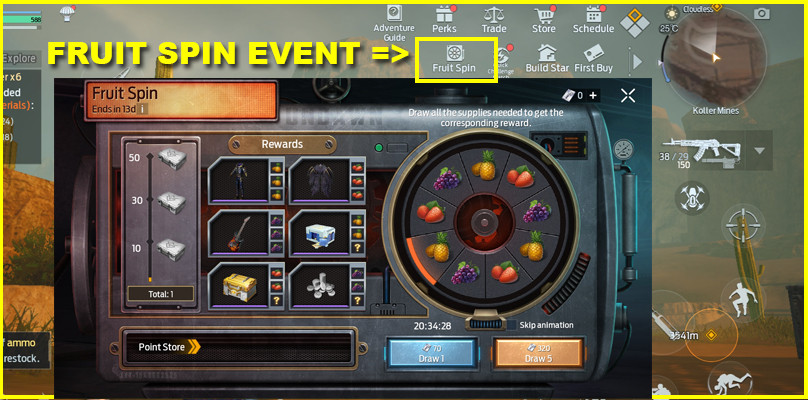 Fruit Spin is a New Evetn in Undawn that is available for 14 days.
Rules: Participate in the event to earn random fruit medals and obtain corresponding rewards. A question mark indicates a random medal.

If there is no corresponding rewards, earn points instead that you can exchange for a variety of goods in the shop.

Price Per Draw: You will need to spend

70 RC Currency Per 1 Draw

&

320 RC Currency Per 5 Draws

.

You also get

1 Free Spin

every day in this event.

Draw Times Rewards: You will get a reward if you spend up to

10, 30 ,& 50 Draws

in this event.

Get 20 Event Score - 10 Times Draw
Get 60 Event Score - 30 Times Draw
Get 100 Event Score - 50 Times Draw
Draw Reward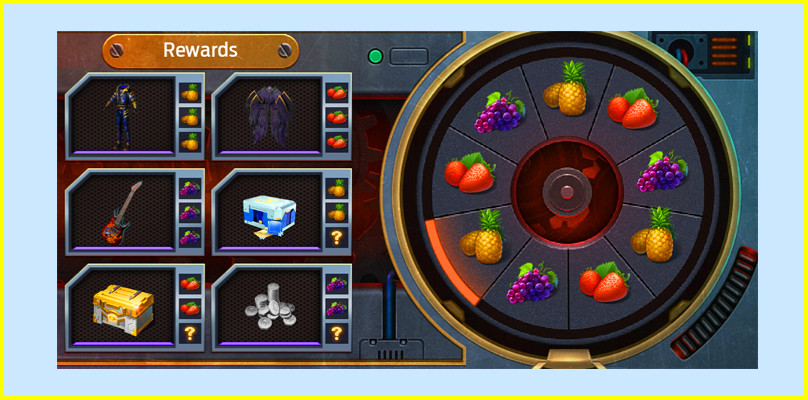 You will earn the following rewards if you get the Corresponding Fruit Medals as we mention inside the image:
Phantom Winged Killer Appearance - 3 Pineapple Fruit Medals
Phantom Winged Appearance - 3 Strawberry Fruit Medals
Flaming Rhythm Appearance - 3 Grapes Fruit Medals
Chip Component Treasure Chest Pack - 2 Pineapples Fruit Medals + Question Mark Fruit Medal (Strawberry or Grapes)
Gene Reagent Pack - 2 Strawberry Fruit Medals + Question Mark Fruit Medal (Pineapple or Grapes)
Silver Currency Points - 2 Grapes Fruit Medals + Question Mark Fruit Medal (Strawberry or Pineapple)
Event Score Exchange Store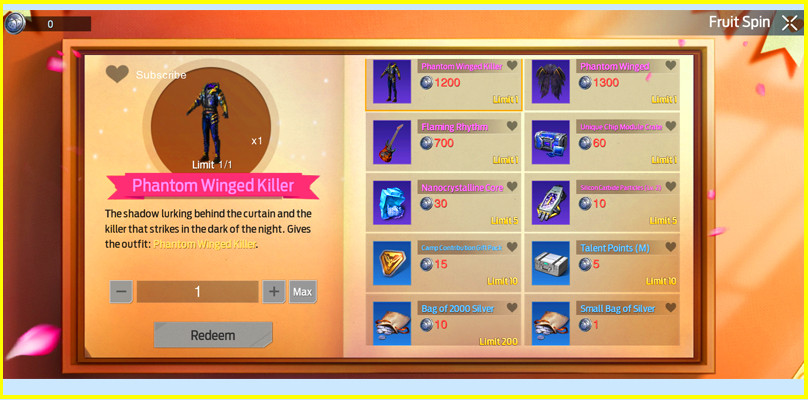 The Event Score that you get from each draw you can use it to exchange a lot of rewards as we mention below:
Phantom Winged Killer - 1200 Score
Phantom Winged - 1300 Score
Flaming Rhythm - 700 Score
Unique Chip Module Crate - 60 Score
Nanocrystalline Core - 30 Score
Silicon Carbide Particles (Lv.2) - 10 Score
500 x Camp Contribution - 15 Score
Talent Points (M) - 5 Score
Bag of 2000 Silver - 10 Score
Small Bag of Silver - 1 Score