Haru is on of the best character in Snowbreak: Containment Zone she can deal a tons of damage with her abilities, check out best Haru build guide & team composition in Snowbreak here.
Best Weapon For Haru Snowbreak: Containment Zone
The best weapon for Haru are: Hammer Hit (Rare), Wild Construct (Epic), and 16-Psyche (Legendary).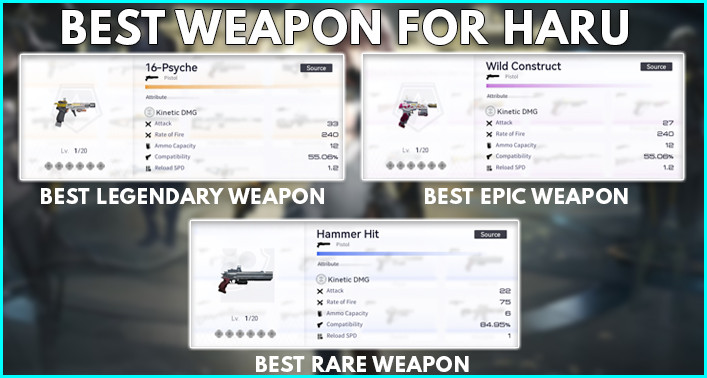 These are the best Weapon for Haru. If you haven't get Epic weapon or legendary yet Hammer Hit will it a decent beginner weapon for Haru.
The best weapon for Haru is 16-Psuche and Wild Construct if you able to get one, you will deal a tons damage with this weapon and make sure to have a good part for your weapon too.
Best Logistics For Haru Snowbreak: Containment Zone
Best Logistics for Haru are: Akitsu Squad Voulez, Yohann, and Momo.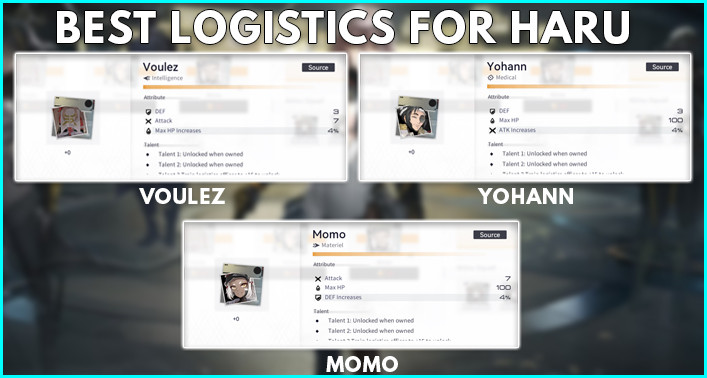 These logistics ( Akitsu Squad )will help increase her attack damage, her armor, and max health.

2 Officers: Increases Skill damage you deal more damage with your abilities.
3 Officers: Use a standard skill to gain 1 stack of golden osmanthus defeat a target to gain 5 stack when reaching 15 stacks increase Haru ATK by 25% and when reaching 30 stacks will increase her Kinetic DMG with is very good for Haru since she deal a tons of damage when using Kinetic weapon.
Haru Manifestation
You can get extra character stats % Passive by upgrade manifestation we recommend to upgrade from Battleground Dominance to Righteous Enforcement.
Battleground Dominance you can use Haru skill Victorious Blade without losing your energy for every 600 seconds which is very good for her.
Frenzied Rage this will help increase more stats & passive skill for Haru and increases her ATK by 5% for 5 seconds when Haru uses a skill.
Iron Kaw of Victory she gain iron body when using a skill ( support skill help increase her DPS and survivability ).
Righteous Enforcement to decreases her skill compensatory justice cooldown to 4 second and S-Energy consumption to 4.
Haru Neuronics
Neuronics is an enhancement of your existing Operative (character) skills.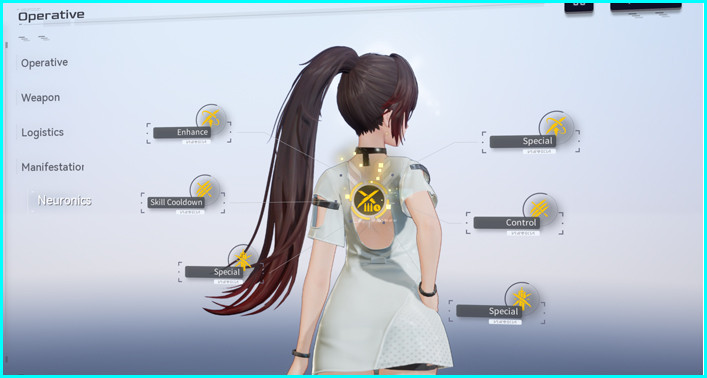 You need to focus on her skill Compensatory Justice the two above so she can deal more damage when using Compensatory Justice then focus on her Triumphant Body, Victorious Blade, and Cluster.
You don't need to worry you can channel through all the 6 Neuronics tree note when Haru reaching level 80.
Haru Best Team Composition
Here two different team composition for Haru:
Haru Team Composition Option 1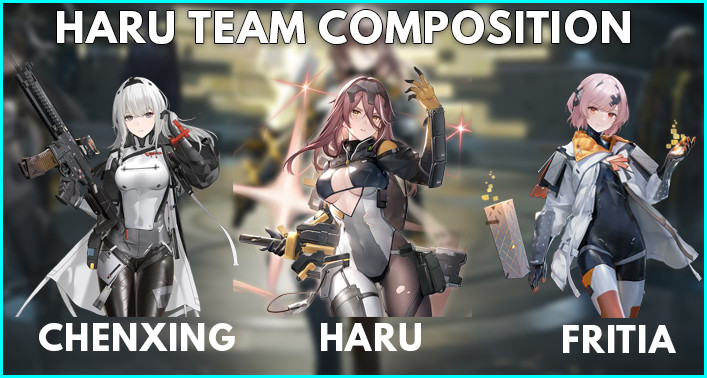 First team for Haru we have Chenxing and Fritia. Chenxing is the most likely pair character with Haru because if you have Odd Alley Cat weapon on her will help increases full squad U-Energy recovery which is very good with Haru.
Chenxing gives you healing and additional standard skill buff damage for Haru. Fritia Hush get her in Haru team because of her damage reduction.
If you unlock her Neuronics skills Hephaestus's Respect which is provides an additional Iron Body effect, can last until all stacks of her fire god protection are consumed very good for Haru if you able to get her in your team.
Haru Team Composition Option 2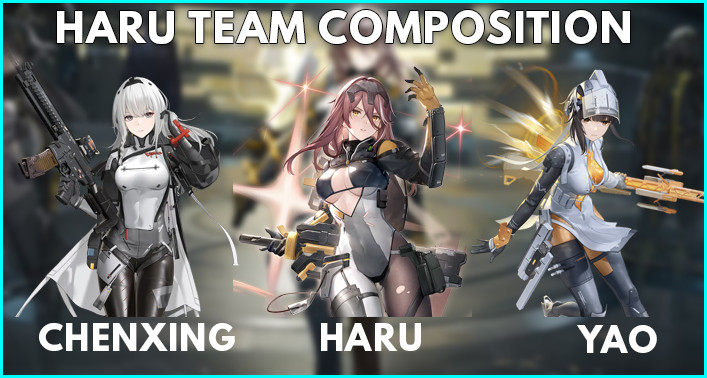 Change Fritia Hush for Yao or you can change Yao with Chenxing any of this is best for Haru because Yao can be your secondary damage since she is one of the best 5 stars character in the game that can deal a tons of damage.
Haru Outfit Skins List
Here you can find and view Haru outfit skin covering from alpha version to the newest release skin in the game.
Haru Frostbite Flora Outfit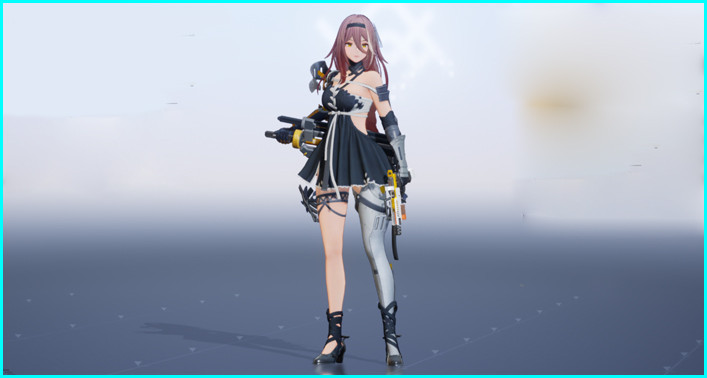 Limited Skin: Price 68 Bit Gold.
Haru Outfit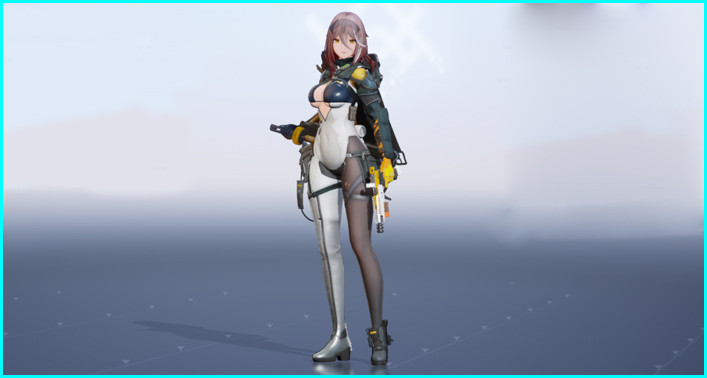 Default Haru outfit skin in game.