Naraka Bladepoint has a complex rank system, Check out all ranks in naraka bladepoint and ranking system here.
Naraka Bladepoint is a hardcore game require experienced players to push their limits to reach higher rank. For new player it's very complicated it require a lot of hours in order to be decent at the game.
All Ranks In Naraka Bladepoint
In Naraka Bladepoint we have 5 unique stages, which make rank system in naraka bladepoint more complex in this article we will guide and explain all ranks in Naraka Bladepoint.
Here is 5 different rank in Naraka Bladepoint: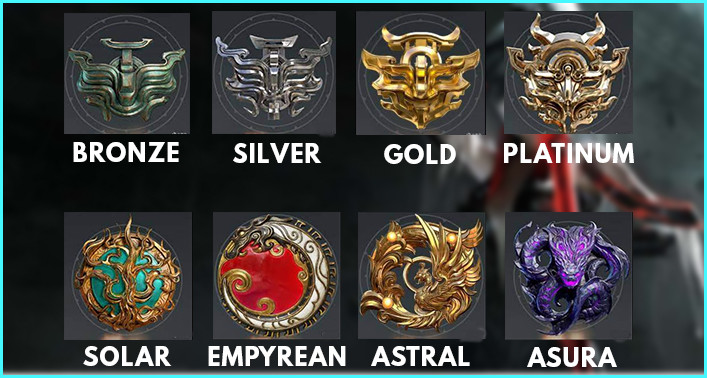 In ranked game have eight unique ranks Bronze, Silver, Gold, Platinum, Solar, Empyrean, Astral, and Asura. Asura is the highest rank in Naraka Bladepoint, which require high level skill in order to reach this rank.
Each of these ranks have 5 stage if your rank is bronze you need to reach 500 rank points to reaches Silver rank for every 100 rank points you reach first and five stage.
V is the lowest tiers if you want to rank up you need to get to I tier and reach 100 rank points. If it your first time play in rank mode you will start with 1000 rank Bronze V to advance to the next tier you need to collect 100 rank points.
If you new to the game and want to start play ranked mode you need to know this you will first start with Bronze V.
In the early ranked game it very easy to reach gold but in late game, you will goes again players spend hundred hundred of hours which make it very hard to for you to reach higher rank.
If you die early in ranked mode you will lose a lot of rank points, the best way to get more rank points is to get a lot of kills the more powerful enemies defeated the more rank points you will get.
Summary Rank you need 500 rank points to progress through every rank check out the list below about all rank with rank points required to reach each of the rank.
| | |
| --- | --- |
| Rank | Rank Points |
| Bronze V to I | 1000 - 1499 Rank Points |
| Silver V to I | 1500- 1999 Rank Points |
| Gold V to I | 2000- 2499 Rank Points |
| Platinum V to I | 2500- 2999 Rank Points |
| Solar V to I | 3000- 3499 Rank Points |
| Empyrean V to I | 3500- 3999 Rank Points |
| Astral V to I | 4000- 4499 Rank Points |
| Asura | 4500+ Rank Points |
End of Ranking System in Naraka Bladepoint.