If you are looking for a high damage gun in Warzone 2 the TAQ-V is for you, though the gun has high recoil, our loadout is build will fix that problem for you.
How to unlock TAQ-V in Warzone 2
This weapon has an easy process to unlocked, the TAQ-V require you to play the TAQ-56 first till you reach level 11 then this receiver will be unlock.
The TAQ-V is also spawn in the ground loot of Warzone 2, so you can find this gun base version in AL Mazrah map.
TAQ-V Overview
The TAQ-V is a hard hitting battle rifle, No doubt it has high damage, however the gun also has very high recoil bounce and low accuracy to hit range target.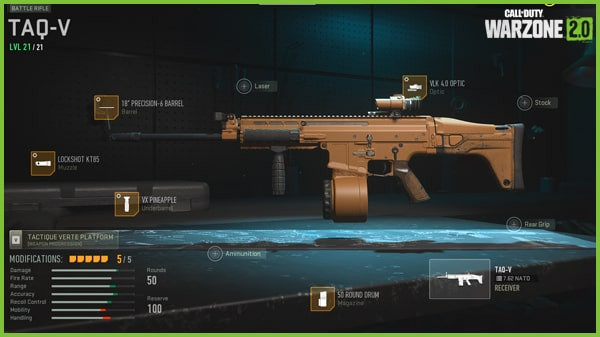 With Our loadout build, you can expect these problems to be almost reduces to 0% and make the TAQ-V much stronger than the base version.
Best TAQ-V loadout in Warzone 2
Muzzle: LOCKSHOT KT85
Barrel: 18" PRECISION-6 BARREL
Optic: VLK 4.0 OPTIC
Magazine: 50 ROUND DRUM
Underbarrel: VX PINEAPPLE
If you feels like the 50 ROUND DRUM is too much, you can change to 30 ROUND MAG instead.
Starting with the LOCKSHOT KT85 this muzzle attachments helps reduces most of the vertical and horizontal recoils.
The 18" PRECISION-6 BARREL helps with the TAQ-V damage range and bullet velocity which allows you to hit your shots at greater range target.
The VLK 4.0 OPTIC provide clearer sights of enemies so you can be more accurate at any ranges.
The 50 ROUND DRUM adds extra 30 ammo into your mag so you can go for squad wipe easily in 1 magazine.
We use the VX PINEAPPLE underbarrel because it is the best grip for high recoil weapon like this TAQ-V.
You can see that we build the TAQ-V attachments to reduces all the crazy recoil pattern and make the gun hit range target with more precise accuracy.
TAQ-V Attachments tuning
LOCKSHOT KT85
Max Recoil Stabilization: +0.80 oz
18" PRECISION-6 BARREL
Max Recoil Steadiness: +50 lb
Max Damage Range: +0.40 in
VLK 4.0 Optic
Far Eye Position: -1.35 in
VX PINEAPPLE
Max Hip Walking Speed: -0.80 oz
Max Aim Down Sight Speed: -0.40 in
This is the best TAQ-V tuning in Warzone 2 because we lean toward recoil stabilization and steadiness so you will have less recoil bounce when firing at mid range target, while still having fast mobility to move and Aim Down Sight.
In Conclusion, The TAQ-V is one of the greater Battle Rifle to use for long range thanks to it high damage, with our loadout we can confidently say that the TAQ-V is the best battle rifle in Warzone 2.
OTHER BATTLE RIFLES LOADOUT: