FTAC RECON is a decent close quarter combat gun to use. Find Warzone 2 FTAC Recon best loadout in this article.
FTAC RECON Overview
FTAC RECON is a battle rifle that is locked in M4 platform, you need to reach 13 with M4 to unlock the FTAC RECON.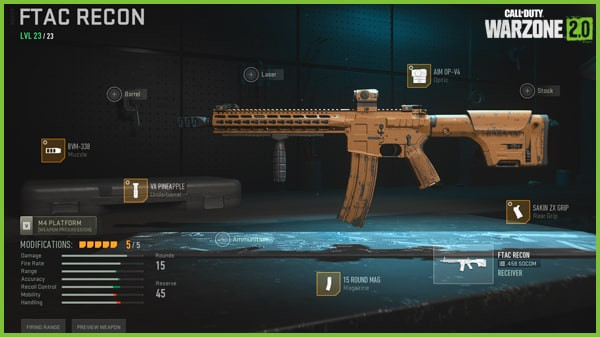 The FTAC RECON deal very high damage in close quarter combat, however it's slow fire rate, and very high recoil control make the gun very hard to use.
Another factor that make the FTAC RECON not really good in Warzone 2 is that your enemies will mostly have plates, and this gun has very low ammo count in the mag so going for multiple kills can be very hard.
Best FTAC RECON loadout Warzone 2
Muzzle: BVM-338
Optic: AIM OP-V4
Rear Grip: SAKIN ZX GRIP
Underbarrel: VX PINEAPPLE
Magazine: 15 ROUND MAG
This is the best FTAC recon attachments in Warzone 2 to use for close quarter combat. We improve the overall range, accuracy, and recoil control.
Starting with the muzzle attachment, we choose the BVM-338 to help reduces both horizontal and vertical recoil control.
For the optic we equip the AIM OP-V4 to improve the close range visibility, you can swap this optic with whichever optic that you prefer.
We pick the SAKIN ZX GRIP for the FTAC RECON to gain even more recoil control.
Underbarrel wise, we equip the VX PINEAPPLE to get the recoil steadiness so there will be less recoil bounce when firing.
The 15 ROUND MAG is the highest mag count that you can choose for the FTAC RECON, and it will help you to eliminate an enemy without having to reload your gun.
FTAC RECON Attachments tuning
BVM-339
Recoil Stabilization: +0.39 oz
Gun Kick Control: +0.18 in
AIM OP-V4
Aim Down Sight Speed: -2.23 oz
Eye Position: -0.27 in
SAKIN ZX GRIP
Recoil Steadiness: +0.81 oz
Aiming Idle Stability: +0.30 in
VX PINEAPPLE
Aim Down Sight Speed: -0.17 in
In summary, The FTAC RECON is not a very strong gun that is worth your Warzone 2 loadout, but if you want to experiment with one of the fastest close range killing gun, this loadout is for you.
OTHER BATTLE RIFLES LOADOUT: