Sniper Rifle seems to dominate the Warzone 2 long range meta since it only need 2 shots to take out 3 plates enemies.
In this article you will find out the best Warzone 2 SIGNAL 50 loadout that will took your long range sniping skills to a whole new level.
SIGNAL 50 Overview
The SIGNAL 50 is sniper rifle that you can unlocked once you reach level 44, you will need to play a decent amount of matches in Warzone 2 to unlock this Sniper.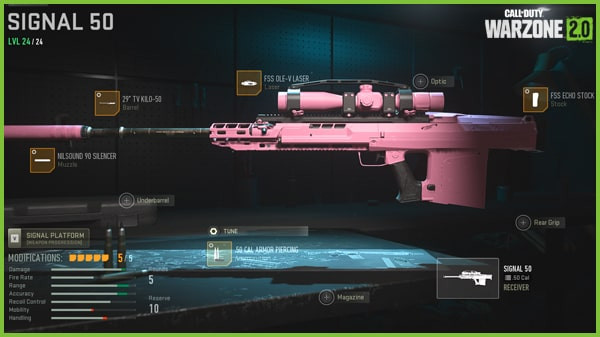 The SIGNAL 50 deal very high damage, with very fast bullet velocity, great for mid to long range gunfight. However the mobility is a bit slow.
You can one shots kills at any range if the enemies doesn't have armor plate and you only need two shots to kills a full 3 armor plates enemies.
Best SIGNAL 50 loadout in Warzone 2
Muzzle: NILSOUND 90 SILENCER
Barrel: 29" TV KILO-50
Laser: FSS OLE-V LASER
Stock: FSS ECHO STOCK
Ammunition: .50 CAL ARMOR PIERCING
When we build this SIGNAL 50 loadout we focus on improving it damage range and accuracy so you can hit long shots more precise.
For the muzzle attachment we use the NILSOUND 90 SILENCER to keep you off the minimap when firing each shot.
The 29" TV KILO-50 Barrel attachments gives us more Bullet velocity, damage range, this barrel improved the SIGNAL 50 range the most.
We use the FSS OLE-V Laser to improved the sniper mobility such as ADS Speed and Sprint to Fire Speed.
For Stock we equip the FSS ECHO STOCK on the SIGNAL 50 to increased aiming stability which help reduces sway when ADS.
Lastly is the .50 CAL ARMOR PIERCING ammunition round, we use this to get extra damage range and bullet velocity.
You will feels that your shot hit the target much quicker than the base version when you use these attachments on your SIGNAL 50.
SIGNAL 50 Attachments tuning
NILSOUND 90 SILENCER
Max Aim Down Sight Speed: -1.40 oz
Max Bullet Velocity: +1.00 in
29" TV KILO-50
Max Aim Walking Speed: -0.50 lb
Max Damage Range: +0.40 in
FSS ECHO STOCK
Max Aim Down Sight Speed: -4.00 oz
Max Aiming Idle Stability: +2.40 in
.50 CAL EXPLOSIVE
Max Damage Range: +0.70 g
Max Bullet Velocity: +9.00 gr
This SIGNAL 50 tuning lean towards improving the overall mobility, aiming stability, and damage range so that you can be more accurate with this sniper.
In Conclusion, The SIGNAL 50 is one of the best sniper to use in Warzone 2 and our loadout helps make it much easier to use.
OTHER SNIPER RIFLES LOADOUT: