If you are looking for a one shot kill sniper in Warzone 2 the VICTUS XMR is for you. But there is a catch.
In this article we go through the why this sniper can one shot in Warzone 2 and which attachments needed to build the best VICTUS XMR loadout in Warzone 2.
VICTUS XMR Overview
VICTUS XMR is a sniper rifle that you need to unlock in Season 1 Battle pass Sector A7 with 27 levels to level up before getting the weapon tuning attachment.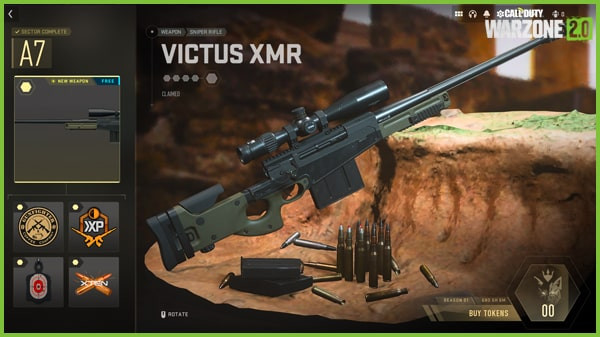 The VICTUS XMR is a very high damage sniper that is great for mid to long range combat, you can one shot kill with the VICTUS XMR but you must hit headshot, Otherwise it'll just broke the plates like the other snipers.
Beside that, the VICTUS XMR also have heavy bullet drop, and slow rechambering speed, so you will need to be precise with this sniper or it'll be very hard to use.
Best VICTUS XMR loadout Warzone 2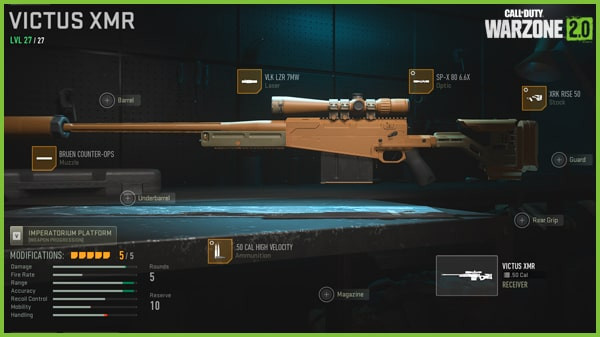 Muzzle: BRUEN COUTNER-OPS
Optic: SP-X 80 6.6X
Stock: XRK RISE 50
Rear Grip: BRUEN Q900 GRIP
Ammunition: .50 CAL HIGH VELOCITY
This is the best VICTUS XMR attachments for Warzone 2 build to increase damage range, and make the sniper feels more accurate in each shot.
We pick the BRUEN COUNTER-OPS muzzle to get the firing sound suppression, damage range and bullet velocity.
We change the default optic to the SP-X 80 6.6X to get the zoom toggle so you can hit mid range target easier. However you can use whichever optic you like.
For stock we equip the XRK RISE 50 to get extra mobility when using this sniper which include Sprint speed and ADS speed.
We also use the BRUEN Q900 GRIP rear grip attachment on the VICTUS XMR to get extra mobility as well.
The .50 CAL HIGH VELOCITY is what make the VICTUS XMR capable of one shot kill headshot, it increase the projectile velocity so your shot travel faster.
VICTUS XMR Attachments tuning
BRUEN COUNTER-OPS
Aim Down Sight Speed: -1.13 oz
Bullet Velocity: +0.71 in
SP-X 80 6.6X
Aim Down Sight Speed: -3.00 oz
Eye Position: -0.29 in
XRK RISE 50
Aim Down Sight Speed: -1.03 oz
Aiming Idle Stability: +2.40 in
BRUEN Q900 GRIP
Aim Down Sight Speed: -0.35 oz
Aiming Idle Stability: +0.45 in
.50 CAL HIGH VELOCITY
Damage range: +0.70 g
Bullet Velocity: +3.24 gr
We tune the VICTUS XMR for more Aim Down Sight speed so that you can scope in faster than default while keep the sniper more stable so you can be more accurate.
In summary, the VICTUS XMR is a one shot sniper in Warzone 2 and it catch is that you must hit headshot.
OTHER SNIPER RIFLES LOADOUT: