View Staff of Homa polearm in Genshin Impact here! Know Staff of Homa polearm stats, passive ranks, stats by level, and ascension.
Staff of Homa Polearm Overview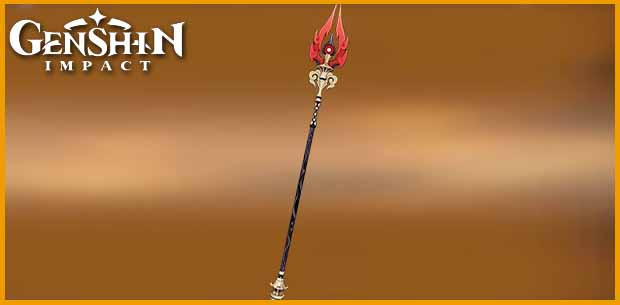 Staff of Homa polearm is a "firewood staff" that was once used in ancient and long-lost rituals.
Base ATK & Secondary Stat
Rarity: 5 Stars
Base ATK (Lv.1): 45.94
Sec.Stat Type: CRIT DMG
Sec.Stat (Lv.1): 14.4%
Passive Ranks, Name, Effect, & Mora Cost
Passive Name: Reckless Cinnabar
Effect: HP increased by *%. Additionally, provides an ATK Bonus based on *% of the wielder's Max HP. When the wielder's HP is less than 50%, this ATK Bonus is increased by an additional *% of Max HP.
HP Increased
% of Wielder's Max HP
% of Max HP:
Refinement Mora Cost: 500,1000,2000,4000,0.
Staff of Homa Stats: ATK & Bonus CRIT DMG%
Lv.20 : 153 ATK | 25.4% Bonus CRIT DMG.
Lv.40 : 266 | 37.1%.
Lv.50 : 340 | 42.9%.
Lv.60 : 382 | 48.7%.
Lv.70 : 488 | 48.7%.
Lv.80 : 563 | 60.3%.
Lv.90 : 608 | 66.2%.
Staff of Homa Ascension
1st Ascension:

x5 Grain of Aerosiderite
x5 Dead Ley Line Branch
x3 Slime Condensate

2nd Ascension:

x5 Piece of Aerosiderite
x18 Dead Ley Line Branch
x12 Slime Condensate

3rd Ascension:

x9 Piece of Aerosiderite
x9 Dead Ley Line Leaves
x9 Slime Secretions

4th Ascension:

x5 Bit of Aerosiderite
x9 Dead Ley Line Leaves
x14 Slime Secretion

5th Ascension:

x9 Bit of Aerosiderite
x14 Ley Line Sprout
x9 Slime Concentrate

6th Ascension:

x6 Chunk of Aerosiderite
x27 Ley Line Sprout
x18 Slime Concentrate
Mora Cost: 10,000 , 20,000 , 30,000 , 45,000 , 55,000 , 65000.
End of Staff of Homa.