View Iron Sting Sword in Genshin Impact here! Know Iron Sting Sword stats, passive ranks, stats by level, and ascension.
Iron Sting Sword Overview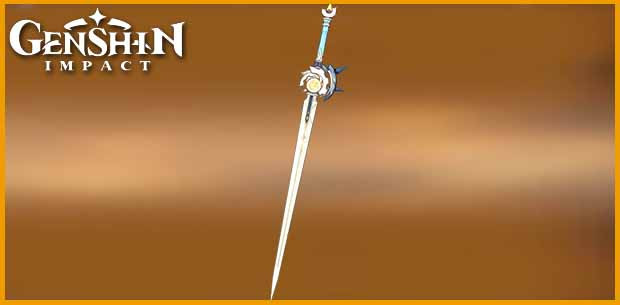 Iron Sting Sword is an exotic long-bladed rapier that somehow found its way into Liyue via foreign traders. It is light, agile, and sharp.
Base ATK & Secondary Stat
Rarity: 4 Stars
Base ATK (Lv.1): 42
Sec.Stat Type: Energy Mastery
Sec.Stat (Lv.1): 36
Passive Ranks, Name, Effect, & Mora Cost
Passive Name: Infusion Stinger
Effect:Dealing Elemental DMG increases all DMG by N% for 6s. Max 2 Stacks. Can only occur once every 1s.
Refinement Mora Cost: 500,1000,2000,4000,0.
Iron Sting Stats: ATK & Bonus EM
Lv.20 : 109 ATK | 64% Bonus ER.
Lv.40 : 205 | 93.
Lv.50 : 266 | 107.
Lv.60 : 327 | 122.
Lv.70 : 388 | 414.
Lv.80 : 449 | 150.
Lv.90 : 509 | 165.
Iron Sting Ascension
1st Ascension:

x3 Grain of Aerosiderite
x3 Fragile Bone Shard
x2 Whopperflower Nectar

2nd Ascension:

x3 Piece of Aerosiderite
x12 Fragile Bone Shard
x8 Whopperflower Nectar

3rd Ascension:

x6 Mask of the Tiger's Bite
x6 Mist Grass
x6 Sharp Arrowhead

4th Ascension:

x3 Bit of Aerosiderite
x12 Mist Grass
x9 Sharp Arrowhead

5th Ascension:

x6 Bit of Aerosiderite
x9 Mist Grass Wick
x6 Weathered Arrowhead

6th Ascension:

x4 Chunk of Aerosiderite
x18 Mist Grass Wick
x12 Weathered Arrowhead
Mora Cost: 10,000 , 20,000 , 30,000 , 45,000 , 55,000 , 65000.
End of Iron Sting.