View Engulfing Lightning polearm in Genshin Impact here! Know Engulfing Lightning polearm stats, passive ranks, stats by level, and ascension.
Engulfing Lightning Polearm Overview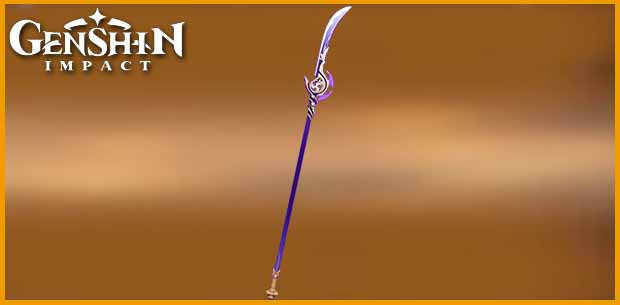 Engulfing Lightning polearm is a naginata used to "cut grass." Any army that stands before this weapon will probably be likewise cut down..
Base ATK & Secondary Stat
Rarity: 5 Stars
Base ATK (Lv.1): 45.94
Sec.Stat Type: Energy Recharge %
Sec.Stat (Lv.1): 12%
Passive Ranks, Name, Effect, & Mora Cost
Passive Name: Timeless Dream: Eternal Stove
Effect: ATK increased by 28% of Energy Recharge over the base 100%. You can gain a maximum bonus of *% ATK. Gain *% Energy Recharge for 12s after using an Elemental Burst.
Maximum Bonus ATK%
Gain % Energy Recharge
Refinement Mora Cost: 500,1000,2000,4000,0.
Engulfing Lightning Stats: ATK & Bonus ER%
Lv.20 : 122 ATK | 21.2% Bonus ER.
Lv.40 : 235 | 30.9%.
Lv.50 : 308 | 35.7%.
Lv.60 : 382 | 40.6%.
Lv.70 : 457 | 45.4%.
Lv.80 : 532 | 50.3%.
Lv.90 : 608 | 55.1%.
Engulfing Lightning Ascension
1st Ascension:

x5 Mask of the Wicked Lieutenant
x5 Chaos Gear
x3 Old Handguard

2nd Ascension:

x5 Mask of the Tiger's Bite
x18 Chaos Gear
x12 Old Handguard

3rd Ascension:

x9 Mask of the Tiger's Bite
x9 Chaos Axis
x9 Kageuchi Handguard

4th Ascension:

x5 Mask of the One-Horned
x9 Chaos Axis
x14 Kageuchi Handguard

5th Ascension:

x9 Mask of the One-Horned
x14 Chaos Oculus
x9 Famed Handguard

6th Ascension:

x6 Mask of the Kijin
x27 Chaos Oculus
x18 Famed Handguard
Mora Cost: 10,000 , 20,000 , 30,000 , 45,000 , 55,000 , 65000.
End of Engulfing Lightning.