Find all information about the new event A Thousand Questions With Paimon in Genshin Impact including the requirement to participate, event duration, event detail, and rewards you will get.
A Thousand Questions With Paimon Event Overview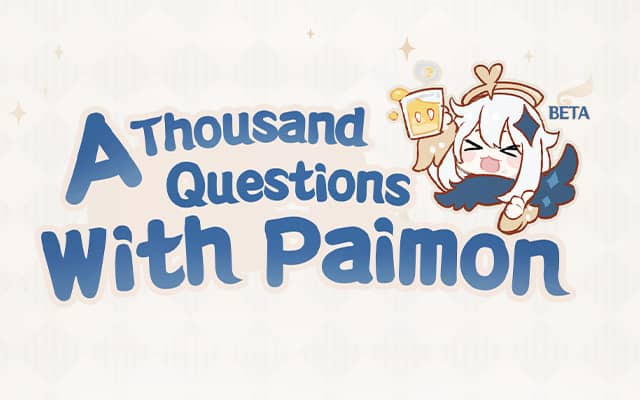 During this event, Travelers need to answer 10 questions from Paimon correctly to get rewards.
Event Duration
A Thousand Questions With Paimon will available on the following day:
Event Start: 2020/12/18 11:00 (Server Time)
Event End: 2020/12/20 23:59 (Server Time)
Event Requirement and How to Participate
In order to participate in the A Thousand Questions With Paimon Event, you need to reach the requirement below:
Reached Aventure Rank 10 or above.
To participate in the event you need to follow these steps:
PC & Mobile: Go to the event notice in the Paimon Menu > Notices
PS4: Go to the event mail in the Paimon Menu > Mail
Note: PS4 Player: To ensure that you are able to easily access the event, please do not delete the event mail. If you accidentally delete the mail, please contact Customer Service and provide your UID.
Event Details
Each challenge includes 10 multiple-choice questions. A correct answer will grant rewards, while an incorrect answer will result in none. The challenge can be restarted to retry the questions that were answered incorrectly at first to obtain the remaining rewards.
Event Rewards
Participate in the A Thousand Question With Paimon event to get the following rewards:
5,000 Mora for each correct answer, a total of 50,000 per day for 10 correct answers.
Note: Rewards will send to your in-game mail and the mail will be valid for 7 days, so be sure to collect your rewards in time.