Here is the guide on how to claim rewards of 1 month free of Discord Nitro and a gift pack for Discord Nitro subscribers from Genshin Impact.
Genshin Impact Gift Pack Bundle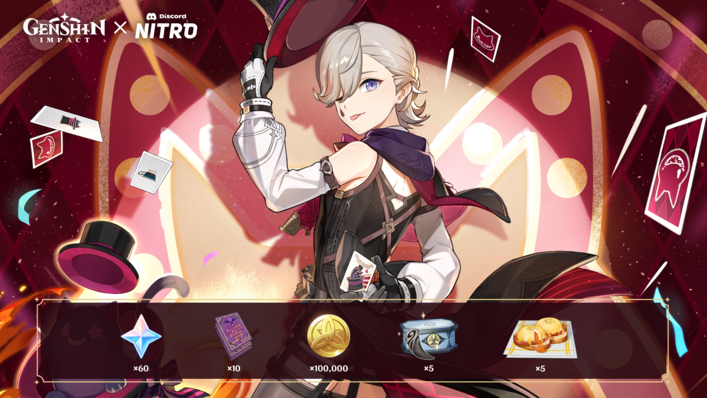 According to Discord, starting from August 15th to September 26th, Genshin Impact players can redeem exclusive in-game gift packs and 1 month free of Discord Nitro.
Here is some info on what will you receive and how to claim it:
Rewards
In-game gift pack for Nitro subscribers


1. Primogems x60
2. Hero's Wit x10
3. Mora x100,000
4. Eminent Share Bundle x5
Adventurer's Breakfast Sandwich x5

1 month of free Discord Nitro for Genshin Impact players.
How to Claim Genshin Impact Gift Pack Bundle
Here is a step-by-step on how to claim these rewards:
In-game gift pack

Claim through Discord, you must be a current Nitro subscriber or Nitro Trial Subscriber(1 month free)
Redeem in Genshin Impact, You must have an active Genshin Impact account.
For Discord Nitro

You will receive a code during the redemption process, if you receive an "Unknown Gift Code" error during the claim, you are not eligible to redeem this promotion because this is only available in certain regions.
If you have not had an active Discord Nitro subscription on your account in the past 12 months are eligible.
If you previously had a Discord Nitro subscription and currently hold a Nitro Classic or Nitro Basic that has been active for less than 12 months are ineligible.
If you currently have a Nitro Basic, Nitro Classic, or Server Boosting active on your account but never had a Nitro subscription, redeeming this promotion will override that subscription without refunding any leftover subscription time from those.
Note: After the 1 month free trial period, your Nitro subscription will convert to a monthly recurring subscription, and Discord will bill your payment method until you cancel it. You can cancel at any time in your Discord User Settings.
Eligibility
This promotion is available in all regions except for Mainland China, Iran, Russia, and Ukraine. You need to reach AR 10 or higher in Fontaine to redeem this gift. You can redeem this gift in eligible servers: America, Europe, Asia, Taiwan, Hong Kong, and Macao.
In Conclusion
This is a really nice collab between mihoyoVerse and Discord which provides the player with a lot of rewards such as Primo, Mora, and more.... Also, with 1 month of free Discord subscription players can enjoy using a lot of features on Discord as well as staying connected with friends and the community on Discord.
End of Genshin Impact Gift Pack Bundle & Nitro for Discord User Guide