Here are Genshin Impact Catalysts that stand out in the 3.7 patch including the detail and reason why they stand out in this patch. We rank these Catalysts into 3 roles such as DPS, Support, and EM Reaction.
Best Main DPS Catalysts in 3.7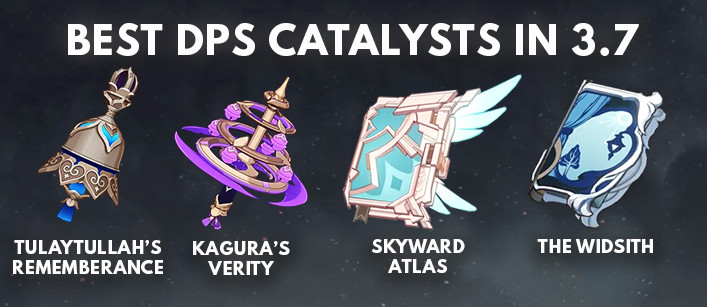 Tulaytullah's Remembrance


Provide CRIT DMG as sub stats
Normal ATK SPD increases instantly
After the user unleashes an EM skill, gain a huge boost on ATK.

Kagura's Verity


Gain huge amount of CRIT DMG
Increase elemental skill DMG and this can be stacked up to 3 stacks max.

Skyward Atlas

Has ATK% as sub stats
Increases EM DMG bonus by 12%.
Normal ATK dealing 160% ATK DMG for 15s that occur once every 30s.

The Widsith


Provide a lot of CRIT DMG as 4 stars weapon.
Get a random buff once every 30s such as ATK by 60%, EM DMG by 48%, and EM by 240.
Best Support Catalysts in 3.7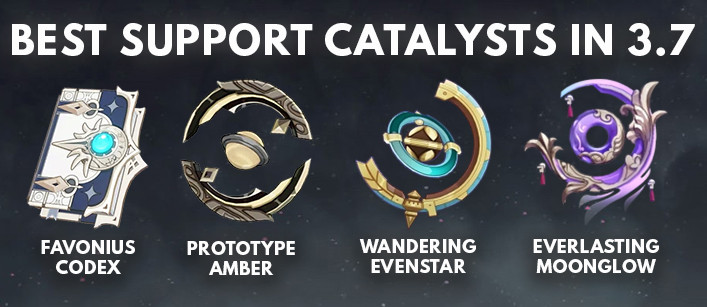 Favonius Codex

Have a lot of ER which is great for supporters that uses a lot of energy.
Uptime EM is faster because of Elemental Particles.

Prototype Amber


Great for those characters who is a healer that bases on HP
Using EM Burst can regenerate 4 energy.
All party members will regenerate 4% HP.

Wandering Evenstar


The equipping character will gain 24% of their EM as a bonus ATK for 12s and nearby party members gaining 30% of this buff too.
This effect can also stackable even character is not on the field.

Everlasting Moonglow


Best for healers that need high HP to output more healing
Boost Normal ATK by 1% of HP with energy restoration if enemies hitted.
Best Elemental Reaction Catalysts in 3.7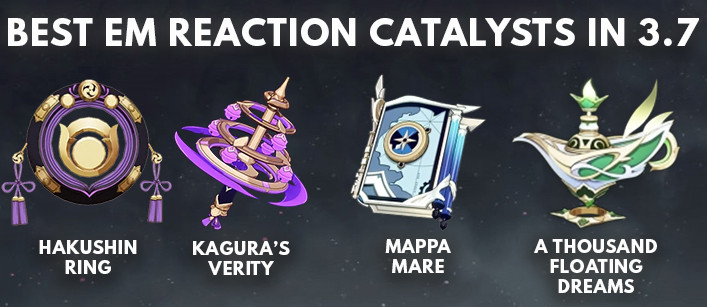 Hakushin Ring

Best for Electro EM reaction and nearby party members of an Elemental Type involved in the reaction receive a 10% Elemental DMG bonus for their element for 6s.

Kagura's Verity

Gain huge amount of CRIT DMG
Increase elemental skill DMG and this can be stacked up to 3 stacks max.

Mappa Mare

Triggering an Elemental reaction grants a 8% Elemental DMG Bonus for 10s. Max 2 stacks.

A Thousand Floating Dreams


Insane amount of EM as Sub Stats
Boost EM DMG and all nearby party members EM DMG.
Conclusion
This best Catalysts guide will guide you to know which Catalysts to use to be able to set up your build or help you to decide to put on the team.
End of Genshin Impact 3.7 Best Catalysts