Welcome to our Apex Mobile gun tier list, here we rank all weapons base on their performance and help you choose the best gun in Apex Legends Mobile.
We use the Alphabet system: S, A, B, C, D to assign each weapon into their own tier:
S - Best weapons to pick up and very easy to use.
A - Powerful weapons to pick up and easy to use.
B - Good performance and challenging to use.
C - Decent performance and difficult to use.
D - Pick up when you have no other weapons.
Now that you understand our tier system here are the our ultimate Apex Mobile weapon tier list:
Apex Mobile Gun Tier List - Season 2
| | |
| --- | --- |
| S | R-301 Carbine, Kraber, Flatline, Spitfire, Volt SMG, Peacekeeper |
| A | L-STAR EMG, R-99 SMG, Mastiff Shotgun, EVA-8 Auto, Sentinel |
| B | Alternator SMG, Hemlok, Prowler, Wingman, Devotion LMG, Triple Take |
| C | Havoc Rifle, Charge rifle, G7 Scout, Longbow DMR |
| D | RE-45 AUTO, Mozambique, P2020 |
Image version: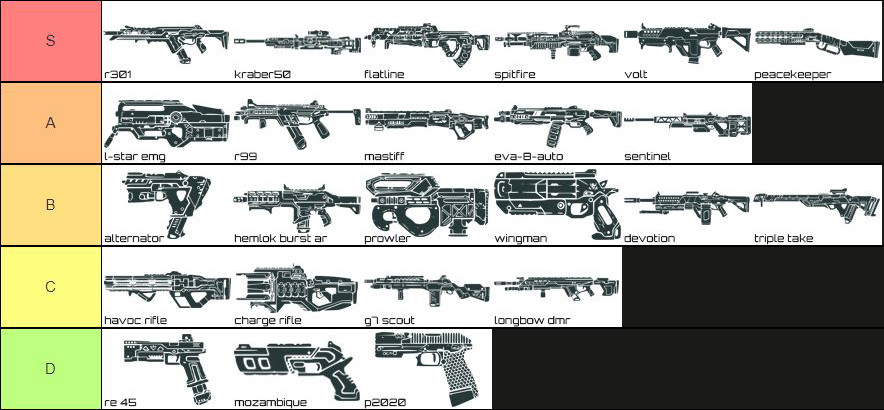 S Tier Weapons
R-301 Carbine - Light Ammo
The R-301 is the best gun in Apex Mobile assault rifle category, this light ammo rifle has a base mag of 22 and can shred a full purple armor when hitting the upper body with ease.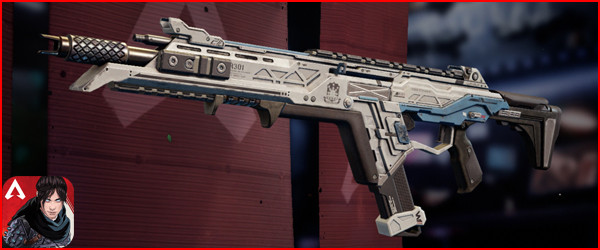 The carbine deal 14 body damage combine with 810 rate of fire can beam up to 475m effective range. This thing is a beast for close to mid range gunfight plus low recoil control making it a must pick up weapon to use.
Kraber - Care package
The Kraber 50 is a powerful bolt-action sniper rifle that come with exclusive ammo and 6x-10x variable zoom.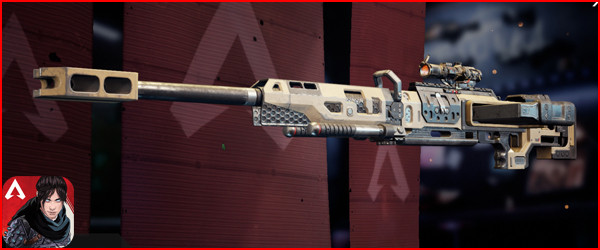 The Kraber deal 435 headshot damage which can kill with 1 shot to the head or 2 shots to the body even with purple armor on while the bullet can reach the enemy as far as 980m away.
Despite the extremely powerful stats you can only find the Kraber inside Care package and the gun only come with 20 unique ammo which make it the best sniper in Apex Mobile.
For the Kraber being very rare, you should always pick it up and give it a try when you spot it inside care package or enemy kills box.
Flatline - Heavy Ammo
The Flatline is one of the best assault rifle in the game that use heavy ammo and have 2 firing mode of Single and Auto.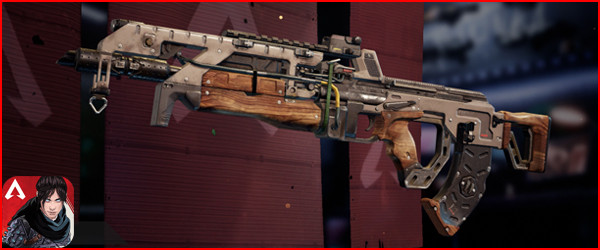 The Flatline deal up to 19 damage with 600 rate of Fire and can beam up to 461m effective range with little to no damage fall off, the flatline seems to shine when hitting long range enemy despite having lower effective range than the R-301. The Flatline recoil is also fairly easy to control.
With Similar stats and performance to the R-301, picking up a Flatline is based on personal preference.
Spitfire - Care package
The Spitfire is a high magazine light machine gun that you can find inside the care package.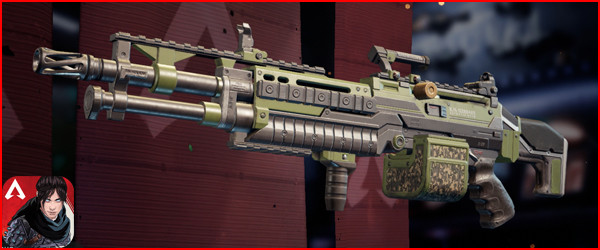 The Spitfire deal up to 18 damage with 540 rate of fire and the effective range of 457m, this is the best LMG in Apex Mobile for laying down suppressive fire and getting multiple kills without having to reload the gun. The recoil is also not really hard to control which is great for fully automatic spray.
The alternate LMG to use would be either the L-Star EMG or the Devotion LMG these LMG performance very well in close to long range.
Volt SMG - Energy Ammo
The Volt SMG is a fully-auto charged energy rifle that has great stability combine with high rate of fire.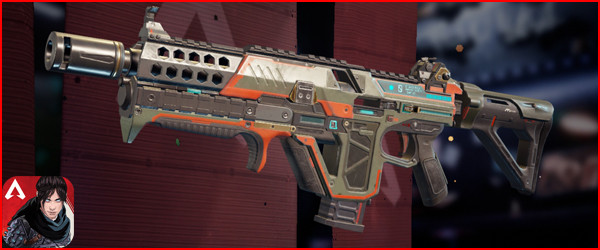 This Volt SMG deal 16 body damage with a high fire rate of 630 and the effective range of 290m, the Volt is the best SMG in Apex Mobile which can kill an enemy really fast in close range with the help of low easy recoil control.
If you want to main the SMG the Volt is the best for you to pick up, slap a purple extended energy mag and you'll have 32 ammo just enough for 2 enemies.
Peacekeeper - Care package
The Peacekeeper is a Lever-action shotgun that come with choke fire mode and deal very high damage bascailly a Kraber at the close range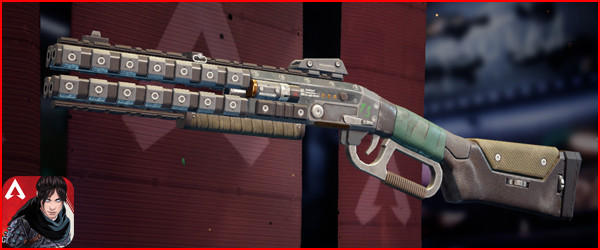 The Peacekeeper deal 110 body damage which mean you can 2 shot the enemy with purple armor from 50 to 100m and you can increase the rate of fire with the shotgun bolt which make it shoot even faster.
The Peacekeeper is the best shotgun in Apex Mobile however it is a care package only gun so you can use the mastiff or EVA-8 Auto as an alternative if you can find it.
Tier List Archive
Find all the history of our previous season tier list here.
Season 1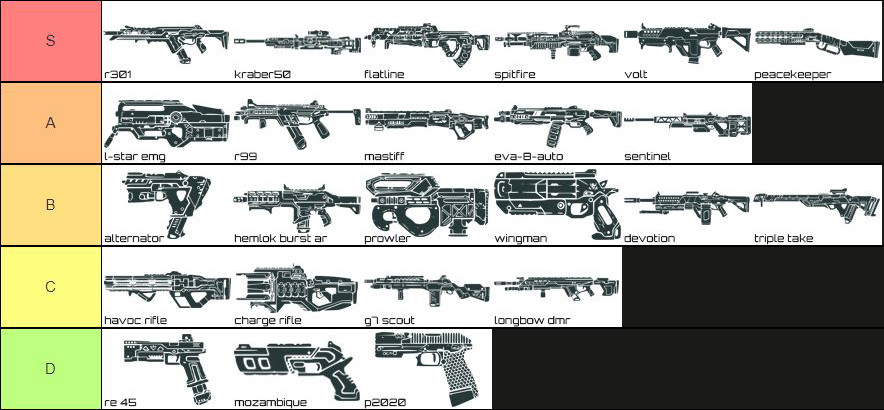 FAQs
Why should I trust this tier list?
We creating this tier list to help you and other players understand what is the best gun in Apex Mobile for your playstyle and hopefully increase your 1 on 1 gunfight win rate.
We don't create or promote misleading content and we take time to test all the guns before we create the tier list.
Is the tier list change every Season?
Depend, some season the meta might remain the same where some other season will introduce new weapon or buffs & nerfs on the weapon that we already have. So YES & NO!
Will this tier list update every Season?
Yes, we will make sure to focus on making this content up to date when new season come out. It generally take us 1 to 2 days to test all the weapons and recreate the tier list for new season.
I don't agree with your decision, what should I do?
Comment, the only way for us to hear your criticism are through comment, we will take those criticism in and re-evaluate our tier list, if we made any wrong judgement.