After 4 months of silence for the game, Respawn has officially confirmed that the Soft launch of Apex Legends Mobile is coming.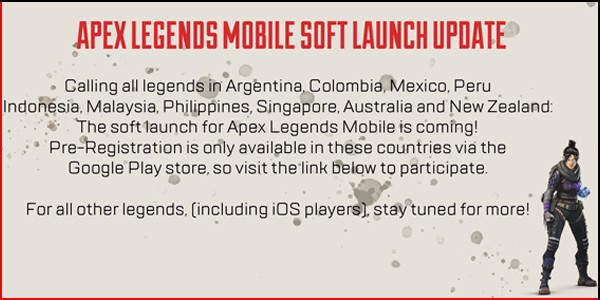 Find all news related to Apex Legends Mobile Soft launch versions, countries, and pre-registration link here in this article.
Apex Legends Mobile Will Feature 2 Versions
This was mentioned in the recent EA Press Conference that Apex Legends Mobile will have 2 exclusive versions:
Apex Legends Mobile Global Version
Apex Legends Mobile Chinese Version
However, we're not sure if there will be a Garena version or a Korean version in the future but as of right now these 2 versions are confirmed.
Apex Legends Mobile Soft Launch Countries
The tweet made by Respawn officially confirmed the countries that can pre-register Apex Legends Mobile and those countries are:
Argentina
Colombia
Mexico
Peru
Indonesia
Malaysia
Philippines
Singapore
Australia
New Zealand
If you are a resident in one of these countries you can head to the Google Play Store and pre-register to secure yourself a Soft launch spot.
If you can't find the Apex Legends Mobile in your Local Google Play Store you can go via this link:
Apex Legends Mobile Soft Launch Release Date
The official actual release date of Apex Legends Mobile Soft Launch is SOON.
However, judging the tweet behavior from the past, after the tweet about the game posted, we often get the game release 1 or 2 weeks after the post.
The longest was 1 month with some other delays involves, please note that this is just us speculate the release date, it is not confirmed whatsoever.
For iOS players Stay tuned for more
The bad news is that players who use iPhone, or iPad mainly using iOS operation system won't be able to participate in this Soft Launch yet.
We've known this for a while that it is a norm for the testing phase of the game to release for Android first.
However, when the game released in iOS App Store it will be a fully-polished and optimized that run extremely well on the device.
So Yeah, All we can do now is to wait patiently for the upcoming news for Apex Legends Mobile iOS release but for now we stay put.
Conclusion
In Short, Apex Legends Mobile will release Soft Launch in the near future for a bunch of countries exclusively on Android and you can go pre-register it now.