PUBG: New State launch trailer confirmed the release date to be on 11th November 2021. Here's everything you should know.
1. Technical Test (Final test)
If you've been selected for the PUBG New State second test, make sure to check your gmail account for the Technical test since they will reselect those who have tested the second time.
PUBG New State Technical test start from October 29, 04:00 to 30, 14:00 (UTC+0), this is the last test to ensure the technical stability of the game.
2. Erangel for PUBG New State
Players will be able to play this Iconic map in PUBG Universe once the game release. Erangel a 8x8 map that was the first map ever in PUBG is also available in PUBG: New State.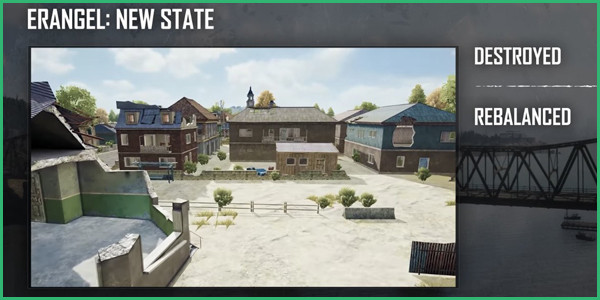 The map Erangel look very similar to the PC version with Destroyed and Rebalanced theme, the pochinki town get reworked and the bridge get additional bridge rail on both side.
In short when PUBG New State release you will be able to play both Troi and Erangel in FPP or TPP.
3. Team Deathmatch
Beside new map - PUBG New State will also feature Team Deathmatch which allows players to showcase their gunfight skills in close to mid range.
Team Deathmatch (TDM) is essential for those who need to warm up before hoping into a match, it can help refresh your muscle memory when shooting, leaning, and get used to bullet travel speed.
A very important game mode that you should not ignore when it come to PUBG.
4. Training Ground
Another great mode that PUBG New State has is Training Ground. This mode allows you to test out all weapons with any attachments - grips, scopes, and new weapons functions.
You can practice weapon recoil, testing sniper bullet speed, practicing DMR bullet drop, and more.
5. Perspective and Party
You will be able to play both Third person perspective (TPP) and First person perspective (FPP) in PUBG New State and party wise there is no DUO yet, you can play Solo and Squad.
FPP: Realistic gunfight and encounter, require high awareness of surrounding, harder to spot enemies.
TPP: Better view of surrounding, easy to spot enemies, make encounter unrealistic.
Solo: Survive alone and eliminate everybody around you, the last man standing win.
Squad: Survive as a team, eliminate other team, be the last team to win.
Conclusion
In short, PUBG New State will release globally in November 11th, 2021 featuring 2 new maps, training modes, and both TPP and FPP perspective with the final test on October 29 and 30.