PUBG: New State Close Alpha is coming out in just a few days. Find all detail and how to get a chance to play the game here.
PUBG: New State Release Date:

To Be Announce

.
PUBG: New State Alpha Date: June 11 to June 13.
Everything We Know about PUBG: New State Close Alpha

The first Close Alpha of PUBG New State region will start in United States.
The PUBG New State Alpha test date are:
Application: May 21 - June 6.
Tester Selection Results: June 9.
Pre-download Period: June 9 - 11.
Alpha Test: June 11 - 13.
They also mentioned that in the near future PUBG: New State Close Alpha will reach more players in different regions.
The device for testing this close alpha are focus on Android.
The minimum requirement of Phone specs to run PUBG: New State Alpha are:
Android 6.0 or Higher.
Ram 2.5 GB or Higher.
The original map in PUBG: New State is named "Troi" which is like the Erangel of PUBG Series.
How To Pre Register PUBG: New State
In order to get a chance to play PUBG: New State close alpha you need to Pre-Register the game in Google Play Store.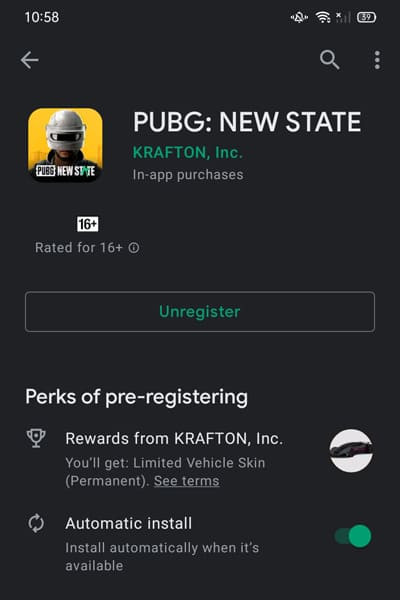 Make sure you have a Google Play Store account so that you can get notify when the Game release, and automatically download the game so you can have a higher chance to being able to play the game.
Conclusion
In conclusion, In term of PUBG: New State Close Alpha this is all that we currently can tell you about the game, although keep an eyes closely to the game because It is going to release very soon. Make sure to Pre-register the game as well.