The second alpha test for PUBG: New State is now available for you to apply. Here are information of PUBG: New State release date, regions, and schedule for the 2nd Alpha test.
How To Apply For PUBG: New State 2nd Alpha
This second PUBG: New State alpha test is available for both Android and IOS, to Apply for the test you need to have your Google Play or App Store e-mail.
Head to https://newstate.pubg.com/en/alphatest and select which Device you want to apply for.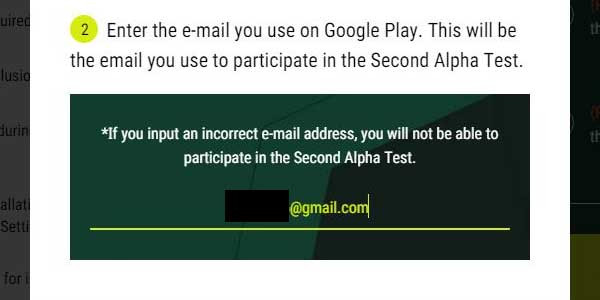 I use Android so I select Apply for Android Alpha test, type in your Google Play or App Store email and click on Apply.
Now you are the 2nd Alpha tester but you won't be able to play the game just yet. You'll need to wait for the Selected Testers announced.
2nd Alpha Test Schedule, Regions, & Specs
Full Schedule
August 9 - August 23: Apply for 2nd Alpha Test.
August 26 at 4:00 (UTC): Announce Selected Tester.
August 26 - August 27 at 1:59 (UTC): Pre-Download PUBG: New State 2nd Alpha test.
August 27 - August 29 at 11:00 (UTC): PUBG: New State server open and is available for testers to play.
Regions & Countries
PUBG: New State 2nd Alpha will be available in the following regions with 28 countries such as:
ASIA:

Cambodia
Hong Kong
Indonesia
Japan
Laos
Macao
Malaysia
Maldives
Myanmar
Nepal
Philippines
Singapore
South Korea
Sri Lanka
Chinese Taipei
Thailand

Mena & Turkey:

Bahrain
Egypt
Iraq
Jordan
Kuwait
Lebanon
Omen
Qatar
Saudi Arabia
Turkey
United Arab Emirates
Yemen
So if you are in the mentioned country and want to test out the PUBG: New State 2nd Alpha, don't missed out and start to apply for the test application.
Minimum Devices Specs
The minimum or lowest devices specs required to play PUBG: New State:
| | |
| --- | --- |
| Android | Android OS 6.0 or higher. Ram 2GB or higher. |
| IOS | iPhone 6s or later models running iOS 13.0 or higher. |
Please check your Phone specs and make sure your device meet the minimum required to run the game.
Conclusion
In conclusion, You will be able to play PUBG: New State 2nd Alpha test start from August 27 to August 29 2021 if you are living in 1 of the 28 mentioned countries and got selected as the tester.