Rainbow Six Siege is a very famous CQB game for PC and Console with massive eSports scenes.
Now it's making its way to Mobile platforms for both Android and iOS with brand new Closed Beta 2.0.
Table of Contents
Release Date & Regions
The announcement on their discord and website has confirm that Rainbow Six Mobile Closed beta 2.0 will launch on June 6th, 2023 for those who's living in:
Canada
U.S
Mexico
Brazil
Singapore
Philippines
India
France
U.K
Germany
Italy
Spain
Japan
South Korea
Australia
For iOS players (limited slots):
Closed Beta 2.0 & Future Roadmap
In this 2.0 Closed beta test, you will get to experience a Team Deathmatch game mode and many more new things as listed in the roadmap.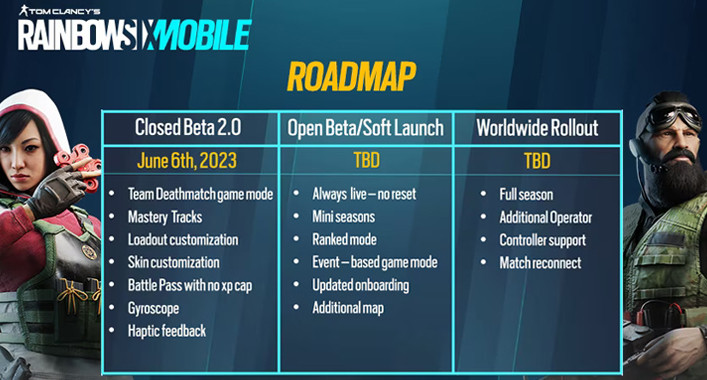 Note: If you are a previous beta tester, your slots are secured.
But for those who just found out about this news and you want to become the R6M closed beta 2.0 tester, make sure you head to your Playstore and pre-registered the game to get a chance of receiving an invite.
For iOS players, a limited number of 10,000 invites will be sent via the Apple Testflight, make sure you check that on June 6th.
Wrap Up
Are you excited about this news? As of right now, Rainbow Six Mobile is the only mobile game that introduces players into a CQB (close-quarters battle) game type.
It's a breath of fresh air from all the fast paced shooting game / battle royale likes PUBG Mobile, COD Mobile, Warzone Mobile...
We hope you get the invite and get a chance to try the game out yourself. Goodluck!