Thresh is a Support & Tank Champion that has low basic attack damage, good survival with defense or movement abilities, high ability to buff teammates or crowd control enemies, and difficulty to play. Thresh is a Tier S+ champion.
Check out Thresh Wild Rift Build down below: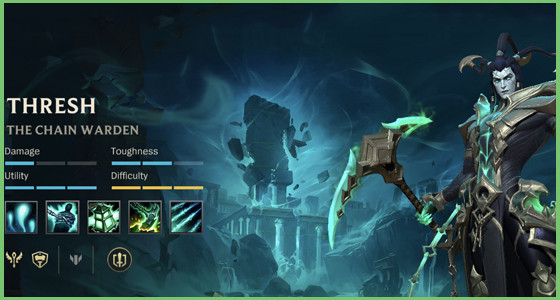 Best Wild Rift Thresh Build
Starting Item
Ruby Crystal
Gain 150 max health.
Core Items
Dead Man's Plate
Gain 250 max health, 50 Armor
Zeke's Convergence
Gain 40 armor, 40 magic resistance, 150 max mana, 10 ability haste.
Protector's Vow
Gain 350 max health, 40 armor, 10 ability haste.
Boots & Enchantment
Mercury's Treads
Gain 40 move speed, 10 magic resist
Protobel Enchant
Dash forward and unleash a cone of missiles that deal 75-145 magic damage. If champion or monsters are hit by more than one missiles, the additional missiles deal only 10% damage.
Final Build
Dead Man's Plate
Zeke's Convergence
Protobelt Enchant
Protector's Vow
Randuin's Omen
Abyssal Mask
Randuin's Omen:

Gain 400 max health, 55 armor

Abyssal Mask:

Gain 300 max health, 40 magic resistance, 300 max mana, 10 ability haste.
Best Thresh Runes
Aftershock:

After immobilizing an enemy champion, gain defense and later deal a burst of magic damage around you.

Defense: 35 AR + 60% bonus armor and 35 MR + 60% bonus MR for 2.5s.
Damage: 12 - 110 + 3 max health, magic damage.
Cooldown: 20s

Weakness:

Impairing the movement of enemy champions makes them take 5% more damage in the following 5s.

Hunter Titan:

Gain 20 max health, Unique champion takedowns grant 20 max health and 3% tenacity.

Pathfinder:

Gain 9% movement speed in brush, jungle, and river when out of control.
Thresh Spells
Flash:

Teleport a short distance forward or towards the aimed direction.

Ignite:

Ignites target enemy champion, dealing

60 true damage (60-410)

over 5 seconds and applying 60%

Grievous Wounds

for the duration.

Grievous Wounds: reduces the effectiveness of healing and Regeneration effects.
Thresh Abilities
Damnation

: Thresh can harvest the

Souls

of enemies that die near him, each soul permanently granting him

1.5 armor

and

1.5 ability power.

Death Sentence: Throws out a scythe, stunning the first unit hit and pulling them in for 1.5 seconds. The scythe does 80 magic damage (80+ 50) and grants

True Sight

for the duration.

Recast: Dashes to the bound enemy.

Dark Passage

: Throws a lantern to a target location, allowing an ally to tap the minion button to dash to Thresh.

The lantern also grants a shield to Thresh and the first ally comes near it,

absorbing up to 65

damage (65 + 2 per Soul) for 4 seconds.

Flay:

Passive: Basic attacks deal additional 0 to 58 magic damage (2) per

Soul

to 2 per

Soul

100%) based on how long since he last attacked.

Activate: Thresh whips his chains, pulling or pushing enemies in the direction of the swing. Enemies hit are also slowed by 20% for 1 second and take 65 magic damage (65+40%).

The Box

: Creates a prison of spectral walls. slowing champions by 99% for 2 seconds and dealing

250 magic damage

(250 + 100). Wall breaks after one collision, and after one is broken, the rest deal no damage and slow for half duration.
Thresh Skill Order
Name
Level Up
Death Sentence
2
4
6
7
Dark Passage
3
8
10
11
Flay
1
12
14
15
The Box
5
9
13
Pros
1. Very Tanky.
2. Very aggressive lane bully.

3. Can make or break team fights.
4. Brings a lot of cc for the team.
Cons
1. Skillshot reliant.
2. Takes a lot of practice.
3. No sustain in lane.
Conclusion
Thresh is a good champion that has both abilities to support and tank in the game but it took much time to understand his skill.