Senna is a Marksman & support champion that has high ability to buff teammates and weaken or crowd control, good ability to deal damage with basic attacks and abilities. Senna is a Tier A+ champion.
Check out Senna Wild Rift Build down below: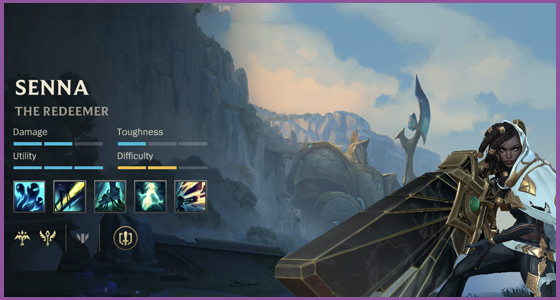 Best Wild Rift Senna Build
Starting Items
Long Sword
Gain 12 attack damage
Core Items
Manamune
Gain 25 attack damage, 300 max health, 20 ability haste.
Rylai's Crystal Scepter
Gain 350 max health, 70 ability power.
Staff of Flowing Waters
Gain 65 ability power, 350 max mana, 20 ability haste.
Boots & Enchantment
Mercury's Treads
Gain 40 move speed, 10 magic resist.
Redeeming Enchant

Reveal a position and after 2.5 seconds, a beam of light heals allies by 25-375, while enemies take 10% of their max health as true damage. Minions and monsters take 250 damage instead.

Can be used while dead. This effect is reduced by 50% if the target has been affected by another redemption in the last 20 seconds.
Final Build
Manamune
Rylai's Crystal Scepter
Mercury's Treads
Staff of Flowing Waters
Crystalline Reflector
Infinity Orb
Crystalline Reflector:

Gain 45 armor, 60 ability power, 15 ability haste.
Infinity Orb: Gain 200 max health, 60 ability power
Best Senna Runes
Aery:

Your attacks and abilities send Aery to a target, damaging enemies or shielding allies.

Damage: 10-60 +20 bonus+

10%

Shield: 20-120 +

40% bonus

+

20%

Weakness

: Impairing the movement of enemy champions makes them take 5% more damage in the following 5s.

Bone Plating:

After taking damage from a champion, the next 3 champion abilities or attacks you within 1.5s deal 30-60 less damage.

Manaflow Band

: Hitting an enemy champion with an ability or

empowered

attack permanently increases your

max mana

by

30

, up to

300

mana.
Senna Spells
Flash

: Teleport a short distance forward or towards the aimed direction.

Heal

: Restores 80 health (80-360) and grants 30% bonus movement speed for 1 second to you and the most wounded nearby ally champion. Healing is halved for champions recently affected by heal.
Senna Abilities
Absolution:

Senna can absorb Mist by attacking souls that spawn from dead enemies. She can also siphon

Mist

from enemy champions she hit twice within 4s, dealing 2% of their current health as bonus

physical damage

.

Each stack of Mist grants

1 attack damage

. Every 20 stacks of Mist grant 25 attack ranges and

15% Critical Strike

Chance. 35% of excess

Critical Strike

Chance is converted into

physical vamp

.
Relic Cannon: Attacks take extra time to fire, dealing

11 bonus physical damage

, and briefly grant Senna 10% of the target's Movement Speed.

Piercing Darkness

: Shoots a bolt of piercing shadow through any object, dealing

40 physical damage

( 40 + 40 Attack Damage) to enemies and restoring

40 Health

(40 +

40 % Attack Damage

+

25% Magic Damage

) to ally champions.


Attack reduces Piercing Darkness's cooldown by 1 second.

Last Embrace:

Sends forth a wave of Black Mist, dealing

70 Physical Damage

(70 +

70% Attack Bonus

) to the first enemy hit. After a 1 second delay, the target and other nearby enemies are Rooted for 1.3 seconds.

Curse of The Black Mist

: Dissolves into a cloud of mist for 6 seconds, becoming a

Wraith

, Allied champions who enter the mist are

camouflaged

and become

Wraiths

when they leave.

Wraiths

gains 20% movement speed, are unselectable and hide their identities as long as no enemy champions are nearby.

Dawning Shadow:

Fire a global wave that

shields

allies from 120 damage( 120+ 40% Magic damage + 3 per mist) for 3 seconds, while dealing

250 physical damage

(250 +

100% Attack bonus

+

50% magic damage

) and applies Mist to enemies caught in the center.
Senna Skill Order
Name
Level Up
Piercing Darkness
1
4
6
7
Last Embrace
2
8
10
11
Curse of the black mist
3
12
14
15
Dawning Shadow
5
9
13
Pros
1. Easy to Master
2. Global range ultimate
3. High Range Skill
4. Have a decent healing
Cons
1. high Mana cost
2. Difficult to kite
3. Need a good position
4. Long Cooldown
Conclusion
Senna is a cool champion that has two different playstyle Senna ADC lane and Senna Support. It's really fun to play this champion if you got a well understanding of her skills combo.