Rengar is an Assassin & Fighter champion that has really high output basic attack and abilities but got low survival, defensive and crowd control. Rengar is a Tier A+ champion.
Check out Rengar Wild Rift Build down below: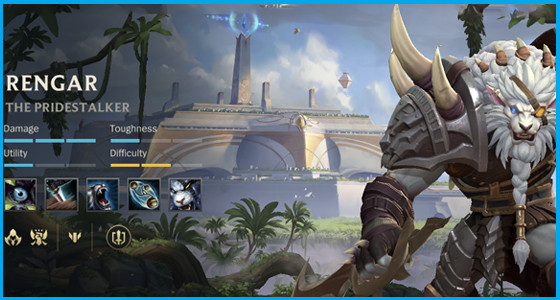 Best Wild Rift Rengar Build
Starting Item
Long Sword
Gain 12 attack damage.
Core Items
Trinity Force
Gain 200 max health, 20 attack damage, 30% attack speed, 25 ability haste.
Solari Chargeblade
Gain 25% critical rate, 30% attack speed, 15 ability haste.
Infinity Edge
Gain 55 attack damage, 25% critical rate.
Boots & Enchant
Plated Steelcaps
Gain 40 move speed, 15 armor.
Stasis Enchant
Become invulnerable and untargettable for 2.5 seconds, but unable to move, attack, cast abilities or use items.
Final Build
Trinity Force
Solari Chargeblade
Stasis Enchant
Infinity Edge
Guardian Angel
Mortal Reminder
Guardian Angel:

Gain 40 attack damage, 40 armor.

Resurrect: Upon taking lethal damage, restores 50% base health and 30% maximum mana after 4 seconds of stasis.

Mortal Reminder:

Gain 40 attack damage.

Last Whisper: +16-30% Armor penetration.
Sepsis: Dealing physical damage applies 40% Grievous Wound to enemy champions for 3 seconds. If the enemy is below 50% health, this effects is increased to 60% Grievous Wounds.
Grievous Wounds reduce the effectiveness of Healing and Regenerate effects.
Best Rengar Runes
Electrocute:

Hitting a champion with 3 separate attacks or abilities in 3s deals bonus adaptive damage.

Damage: 35-189 + 40% bonus + 25%. Cooldown: 20s

Brutal:

Gain 7 AD or 14 AP (Adaptive).

Bone Plating

: After taking damage from a champion, the next 3 champion abilities or attacks against you within 1.5s deal 30-60 less damage. (35s cooldown).

Hunter Genius

: Gain 3 ability haste. Unique champion takedowns grant 3 ability haste.
Rengar Spells
Flash: Teleport a short distance forward or towards the aimed direction.

Smite:

Deal 440 true damage (440-1000) to a large or epic monster or minion. Smiting monsters

restores 127 health

(70 + 10%). Slaying 4 large monsters upgrades smite to

Chilling Smite

or

Challenging Smite

which can target enemy champions.
Rengar Abilities
Unseen Predator(Passive)

: If rengar is in brush, he will leap to the target with his next attack. If rengar has no

ferocity

he gains 1 f

erocity.

Bonetooth Necklace: Gain

5%-25% attack damage

for each unique champion takedown.

Savagery(1st)

: Rengar's next 2 attacks within 3 seconds gain

50% attack speed

. The first attack is

empowered

to deal an additional

44 physical damage

(40 +

5%

).

Ferocity: Gain

55% attack speed

for 5 seconds instead. The first attack deals an additional

66 physical damage

(40 +

40%

) instead.

Battle Roar (2nd):

Rengar roars, dealing

50 magic damage

(50 +

80%

) and

healing

for 5

0% of damage

taken in the last 2 seconds.

Ferocity: Deals

80 magic damage

(80 +

80%

) instead. Rengar also gain 40% movement speed for 2.5 second and removes all crowd effects from himself.

Bola Strike (3rd):

Throws a bola that deals

60 physical damage

(60 +

80% bonus

) and slows by 30% for 1.75seconds.


Ferocity: Deals

65 physical damage

(65 +

80% bonus

) and roots for 1.75seconds instead.

Thrill Of The Hunt (Ultimate)

: Gains 30% Movement speed and

reveals

the nearest enemy champion for 12 seconds. Rengar becomes

camouflaged

after 1 second and can leap without being in the brush. Leaping to the nearest champion shreds the target's armor by 16 for 4 seconds.
Rengar Skill Order
Name
Level Up
Savagery
1
4
6
7
Battle Roar
2
8
10
11
Bola Strike
3
12
14
15
Thrill of the Hunt
5
9
13
Pros
1. Extremely fun to play
2. Strong in skirmishes and duels
3. Unique playstyle
4. Flexible with item builds and playstyle
Cons
1. Really hard to master
2. Needs a lot of practice
3. Bad vs tanks
4. Hard to play from behind
5. Hard to play in teamfight
Conclusion
Rengar is a strong Assassin & Fighter jungle in the game. He is so powerful in the early game and late game. He can solo kill his opponent easily with his skill combo.